Geirangerfjord
The Geirangerfjord is a majestic fjord in the Sunnmøre region of Møre and Romsdal County in western-Norway. It`s often referred to as the jewel of the Norwegian fjords, surrounded by a fairytale landscape with majestic snow-covered mountaintops, wild and beautiful waterfalls and lush green vegetation.
People have lived along the fjords and between the fjords and the mountains for thousands of years. In a harsh natural environment and a demanding climate, they found a way to make a living based on fishing and agriculture. One of the clearest signs of old cultural history is the abandoned farms along Sunnylvsfjorden and Geirangerfjorden.
Skageflå Farm is one of a handful historic mountain farms on the steep mountainsides along the majestic Geirangerfjord. The farm is located on a mountain ledge 250 metres (820 ft) above the fjord and directly across the Seven Sisters Waterfall and the old Knivsflå Farm.
The Knivsflå farm lies on a shelf with a several hundred feet sheer vertical drop. This created challenges for those who lived there. Parents had to tie up their children playing outside to make sure the wouldn´t fall of the edge.
The Seven Sisters" is one of the most famous waterfalls in Norway. As the name implies, it consists of seven waterfalls that thunder down the mountain side, just next to the abandoned farm of Knivsflå.
The Geirangerfjord has been listed as a UNESCO World Heritage Site since 2005, and it has been named the best travel destination in Scandinavia by Lonely Planet. Several hundred thousand people pass through every summer, and tourism is the main business for the 250 people who live there permanently".


Farms such as Skageflå, Blomberg, Oaldsbygda and Knivsflå tell us about bygone days, when a small patch of ground, some goats and perhaps a cow was enough to survive. The conditions were tough, but life here could also be rewarding,  living in such a majestic location surrounded by fairytale landscape.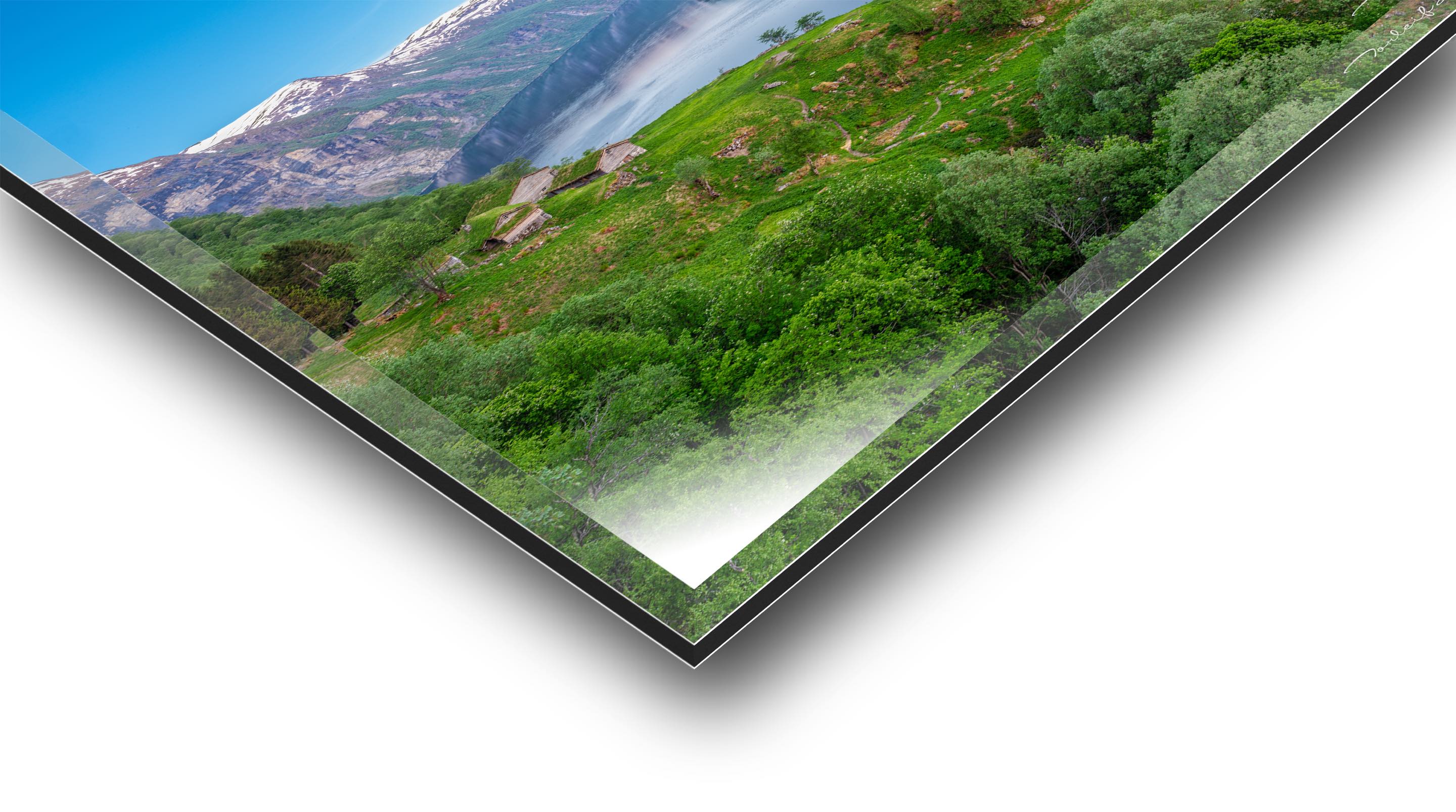 Disclaimer:
The organisation "Storfjordens Venner" – the Friends of Storfjorden, has carried out invaluable work taking care of the cultural heritage represented by the fjord farms. Many of them were in danger of being lost to the ravages of time, but tireless work by many voluntary hands has saved the farms for posterity. In an effort to portray the most authentic and accurate representation of this historic site the artist has retouched some of the farmhouses. This ensures a more historically correct image which meets the artists artistic vision.