Artist Comments
"A series of images portraying the impact of humankind's destructive industrial practices on the natural environment. The images portray the terrible beauty of mining's toxic impact on the land, whilst serving as a reminder of man's folly.
Human impact on the environment or anthropogenic impact includes changes to biophysical environments and ecosystems, biodiversity, and natural resources. This affects global warming, environmental degradation such as ocean acidification, mass extinction and biodiversity loss, creating an ecological crisis, and ecological collapse. Modifying the environment to fit the needs of society is causing severe effects, which become worse as the problem of human overpopulation continues.
The opencast mines of Rio Tinto have been excavated since the 19th century, providing heavy metal ores such as iron, copper, silver and gold. Mountains, valleys and villages have disappeared from the hungry machinery devouring the land implacably, year after year. Giant scars on the landscape have been referred to as otherworldly with terrible hues of blue, green and red. The runoffs from these mines have created an eerie blood red flow in the river, hence the name Tinto. The river flows to the gulf of Cadiz carrying high acidity levels and heavy metals, in effect making this an environment disaster, a toxic reminder of human's ability to irreversibly destroy the landscape in the name of corporate profits, a legacy of greed for future generations."

Gold Winner in Moscow International Foto Awards 2020
Artist Comments
"I am incredibly honored to be among the winners in the prestigious Moscow International Foto Awards 2020. Congratulations to all the photographers and a huge thank you to the esteemed jury who have taken their time to deliberate over such a wide selection of images across so many different genres."


MOSCOW INTERNATIONAL FOTO AWARDS Jury
The Moscow International Photo Awards panel is comprised of an international pool of photography industry professional from photo editors, art directors, art buyers, gallery owners, art directors, curators, publishers and other influential luminaries.

The Judges reviewed each entry based on originality, creativity, excellence of execution and overall impact. Identities of the participants were not revealed to the jury panel to ensure fairness and integrity of the competition.


About Moscow International Foto Awards:
Moscow International Foto Awards (MIFA) is a prestigious gathering for international talents in photography. It is an annual competition that serves as a platform to recognize, reward and expose talented professional, non-professional and student photographers on a global scale. Participants from all over the world are encouraged to join the annual Moscow International Foto Awards. MIFA challenges photographers of all levels to grow within their craft and their profession.

The MIFA was created by the people that are behind the glamorous Lucie Awards and the prestigious Paris Photo Prize. It is MIFA's goal to create an ambitious and comprehensive medium to find the most amazingly talented photographers from all corners of the globe and introduce them to Moscow photography community.

Visit http://www.moscowfotoawards.com/
Silver Winner in One Eyeland Awards 2019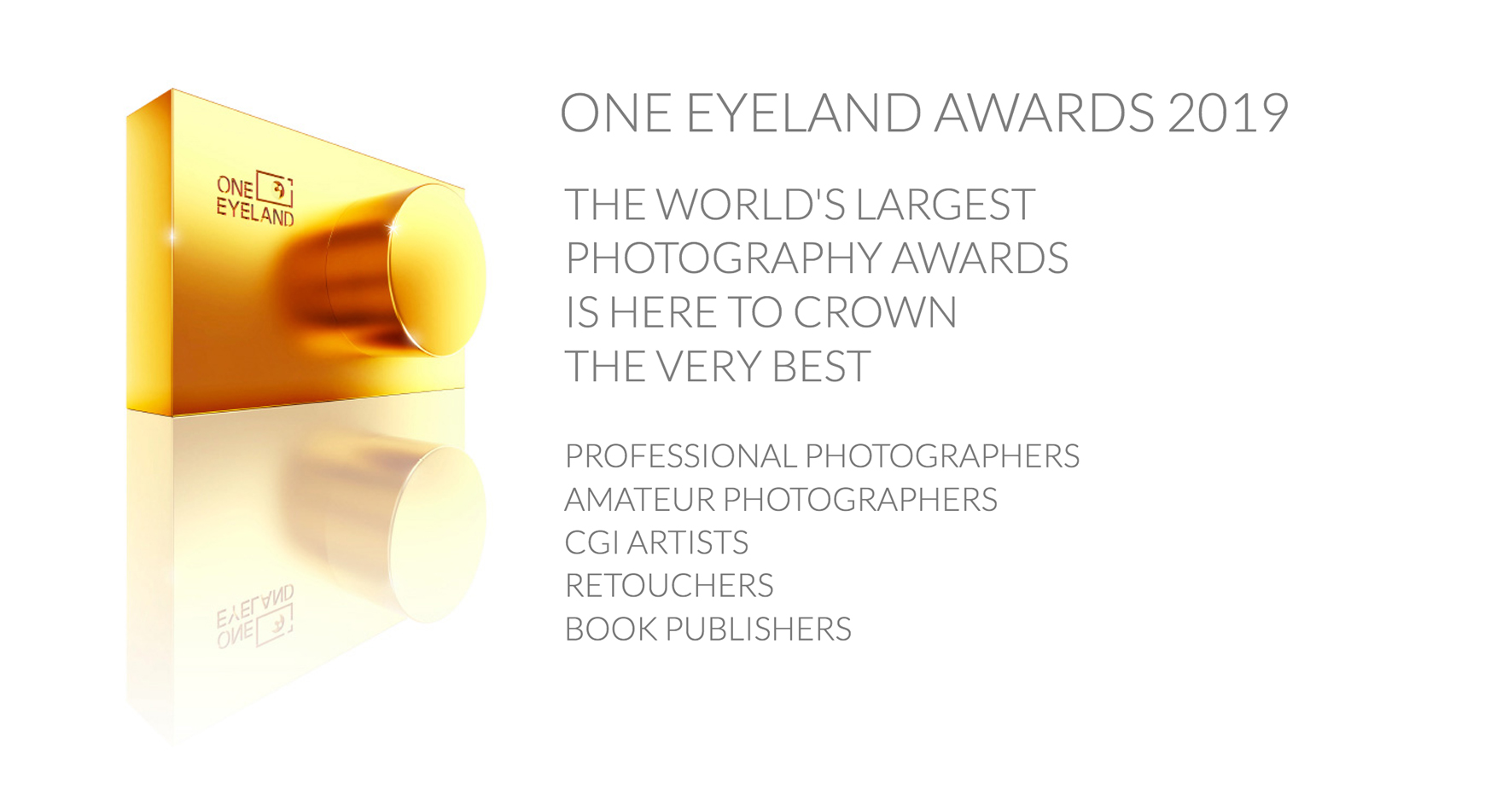 Artist Comments
"I am deeply honored to be a among the winners in the One Eyeland Awards 2019. Being in the illustrious company of some of the world's finest professional photographers is incredibly humbling.
"How we Bleed the Earth, our Guilt and Shame" image series was awarded 5 Silver Awards in the following categories; Editorial-Environmental, Fine Art-Abstract, Fine Art-Landscape, Nature-Aerial and Nature-Landscape.
Congratulations to all the winners and a heartfelt thanks to the eminent jury who have taken their time to deliberate over such a wide selection of images across so many different genres."
ONE EYELAND AWARDS 2019
The World's Largest Photography Awards
In keeping with its mission to showcase the finest work of the finest photographers, One Eyeland the world's most sought after online gallery for creative images, organized the contest for determining the very best Photographers in the World.
AWARDS JURY 2019
Adam Livesey Executive Creative Director – BBDO New York, USA
Amy Carvajal Executive Creative Director – Wunderman Thompson, USA
Barry Makariou Director – Film & Photography, UK
Cynthia Held Owner – Held & Associates, USA
Glen Wexler Photographer + Director, Los Angeles, California, USA
Isaac Bonnier Senior Creative – ACNE, Sweden
Joel Holtby Partner – Creative Director – Rethink, Canada
Jenny Ehlers Executive Creative Director – The King James Group, South Africa
José Filipe Gomes Creative Lead / Senior Art Director – Innocean Worldwide Europe, Germany
Julio Andery Founder – Lavanderya, Brazil
Mariela Rueda Creative Director – Alma DDB, USA
Rodrigo Nakaza Associate Creative Director – Serviceplan Group Middle East, UAE
Tim Hawkey COO – Area 23, USA
Sharad Haksar Photographer & Founder – One Eyeland, India

13th Annual International Color Awards Winner

Artist Comments
"I am incredibly honored to be among the winners in the 13th Annual International Color Awards. I feel privileged to have my work showcased alongside such talented and creative artists. Congratulations to all the photographers and a huge thank you to International Color Awards and the esteemed jury who have taken their time to deliberate over such a wide selection of images across so many different genres."
International Color Awards – Winner Announcement
LOS ANGELES March 14th, 2020 – Professional photographer Torleif Lie of Norway was presented with four Honorable Mentions and eleven Nominee titles in the 13th Annual International Color Awards at the prestigious Nomination & Winners Photo Show Saturday, March 14th, 2020. 13h Annual Winners Gallery
The gala was attended by photography fans around the globe who logged on to watch the climax of the industry's most important event for color photography.
The Jury represented the industry's biggest names and tastemakers including; Apartheid Museum – Johannesburg, Royal Academy of Art, Center for Contemporary Photography – Melbourne, Preus Museum, Norway, Fotografiska Center – Copenhagen, The Art Channel – London, National Geographic – Washington, DC, Kunstsammlungen & Museen Augsburg – Germany, Galerie Mitterrand – Paris, Whitechapel Gallery – London, Newsweek – New York, OPIOM Gallery – Alpes-Maritimes, Dallas Contemporary – Dallas,  Gallery Kong – Seoul, Wunderman Thompson Intelligence – New York, Cornette de Saint Cyr – Brussels, MOTHER – London, Bonnier Corporation – New York, Maison Margiela – Paris, EVO Films – Los Angeles, Karen Silveira Creative Direction & Brand Strategy – New York, Ralph Lauren – New York, Diesel – New York, Fox Broadcasting Network – Los Angeles and Calvin Klein – Netherlands.
It is an incredible achievement to be selected among the best from the 6,093 entries we received this year," said Basil O'Brien, the awards Creative Director. Torleif's "Chimera", an exceptional image entered in the Nature category, represents contemporary color photography at its finest, and we're pleased to present him with the title of Honorable mention.
INTERNATIONAL COLOR AWARDS
International Color Awards is the leading international award honoring excellence in color photography. This celebrated event shines a spotlight on the best professional and amateur photographers worldwide and honors the finest images with the highest achievements in color photography. www.colorawards.com
13TH ANNUAL JURY
For fourteen years International Color Awards has been committed to bringing you world-class Juries selected from the most influential names in the industry. Annually a new jury pool is created to ensure the program's reputation for recognizing first-movers, new emerging talent and current trends across the industry. Jury members are selected by exclusive invitation to join the international panel and sent ballots to log on, review the entries and make their nomination selections. Only by having the greatest talent from both sides of the lens do we produce the intoxicating and diverse collections of color photography the program is renowned around the globe for showcasing.
APARTHEID MUSEUM – Johannesburg – Christopher Till, Director
ROYAL ACADEMY OF ART – THE HAUGE, Netherlands – Marieke Schoenmakers, President & Director
PREUS MUSEUM – Norway – Hanne Holm-Johnsen, Senior Curator
FOTOGRAFISKA CENTER – Copenhagen – Kristine Kern, Chief Curator / Director
CENTER FOR CONTEMPORARY PHOTOGRAPHY – Melbourne – Made Spencer-Castle, Curator / Exhibitions
NATIONAL GEOGRAPHIC – Washington – James Wellford, Senior Visual Editor/Producer for Global Issues
KUNSTSAMMLUNGEN & MUSEEN AUGSBURG – Germany – Dr. Thomas Elsen, Director of H2 / Contemporary Art
GALERIE MITTERRAND – Paris – Edward Mitterrand, Artistic Director
WHITECHAPEL GALLERY – London – Christopher Aldgate, Head of Exhibition Design and Production
MAISON MARGIELA – Paris – Jung A Park, Head of Design
NEWSWEEK – New York – Diane Rice, Director of Photography
THE ART CHANNEL – London – Joshua White, Founder
DALLAS CONTEMPORARY – Dallas – Laurie Ann Farrell, Senior Curator – Dallas
CORNETTE DE SAINT CYR – Brussels – Caroline Gentsch, Specialist Contemporary Art
DROGA5 – New York – Juliana Cobb, Group Creative Director
OPIOM GALLERY – Alpes-Maritimes – Eve Janprasert, Director
BBH ASIA PACIFIC – Singapore – Omar Sotomayor Noel, Creative Director
GALLERY KONG – Seoul – Grace K.H. Kong, Founder
KOLLER AUCTIONS – Zurich – Gabriel Mueller, Head of Photography
WUNDERMAN THOMPSON INTELLIGENCE – New York – Emma Chiu, Global Director
MOTHER – London – Kyle Harman-Turner, Creative Director
EVO Films – Los Angeles – Will Newell, Head of Creative
RCHD – Amsterdam – Rachid Naas, Creative & Executive Director
CHIELD GERMANY, Frankfurt – Arnab Biswas, Creative Director
SIERBEELD IMAGEMAKERS – Nijmegen – Ab Sier, Owner
KOLLE REBBE – Hamburg – Savina Mokreva, Senior Art Director
WIEDEN+KENNEDY – Portland – Sara Phillips, Senior Art Director
DUDA – Warsaw – Tiago Pinto, Art Director
UBER – Amsterdam – Michelle Gauci, Creative Director
DIESEL – New York – Nick Rogers, Art Director
ANGIE DAVEY ART ADVISORY – London – Angie Davey, Art Consulting and Advisory
BONNIER CORPORATION – New York – Sean Johnston, Group Creative Director
KAREN SILVERIA CREATIVE DIRECTION & BRAND STRATEGY – New York – Karen Silveira, Executive Creative Director
JOHANNES LEONARDO – New York – Samira Ansari, Group Creative Director
UNCLOUDY & CO – Gothenburg – Andreas Panagiotopoulos, Director & Founder
RALPH LAUREN – New York – David Oscroft, VP, Brand Creative
NBC UNIVERSAL – New York – Kaori Sohma, Creative Director
FOX BROADCASTING NETWORK – Los Angeles – Phil Bates, Art Director, Film, TV & Sports
CALVIN KLEIN – Netherlands – Katarina Pepichova, Creative Producer & Art Buyer
FACEBOOK – San Fransisco – Jenna Livingston, Associate Creative Director
NETFLIX – Los Angeles – Tomasz Opasinski, Creative Lead/Product Imagery Innovation
IKEA – Sweden – Daniel Vaziri, Art Director
FILA – New York – John Lin, Executive Creative Director, VP of Basketball
MINI / BMW GROUP – London – Leo Marks, Global Creative Director
SOURCE International Color Awards
"Anthropogenic" Image Series Shortlisted in London International Creative Competition
Artist Comments
"I am truly honored to be among the 14 Professional Photographers who were shortlisted in the London International Creative Competition 2019. In total 100 design and projects were shortlisted from work across a diverse range of formats, from painting to printmaking and from fashion to photography".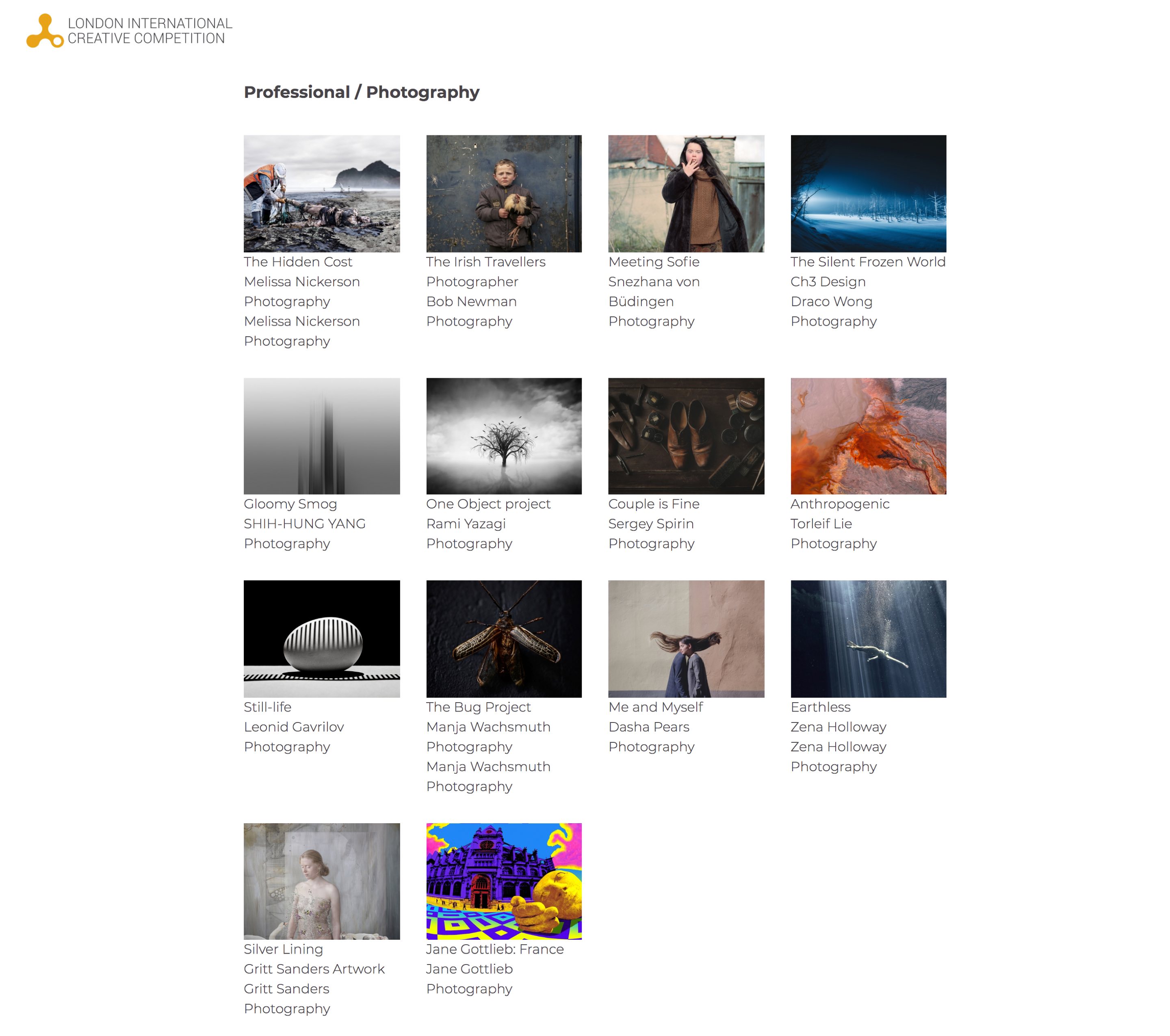 LONDON INTERNATIONAL CREATIVE COMPETITION
Since starting out in 2006, the London International Creative Competition has been recognising and rewarding the world's most fresh and progressive talents. Our artists are connected not by conventions, but by qualities. We're not looking for anything done by-the-book. We're looking for work that is as visual as it is vital.
The LICC is a way for the visionaries to really stand out from the crowd. We're here to help cultivate creativity, to help artists push boundaries and break down walls. The LICC isn't here to plant seeds, but to help them grow. We're keen to hear from people who look at life a little differently, who fit squares into circles and for whom the ordinary can be truly, truly extraordinary.
We aren't interested in the Damien Hirsts and Grayson Perrys of the world. We want to hear from new, exciting artists. We want to be the platform introducing unique, extraordinary, but unknown names to an international audience.
The LICC Jury Panel
The LICC jury is made up of of internationally esteemed creatives, curators, gallery owners, writers and other artistic arbiters.
Rebecca McClelland Saatchi & Saatchi / Head of Department Art Production
Peter Frank Riverside Art Museum / Senior Curator
Marcia Fortes Galeria Fortes Vilaça / Director
Knut Ormhaug Bergen Art Museum / Senior Curator
Hossein Farmani Farmani Group / Founder & President
Regis Krampf Krampf Gallery / Director
Thomas Wunsch / Fine art photographer and lecturer
Laurence Gartel Gartel Art / Digital Media Pioneer
Xavier Hufkens Xavier Hufkens Gallery / Owner & Director
Yasmine El Rashidi / Writer/ Curator
Vera Munro Galerie Vera Munro / Owner & Director
Stathis Panagoulis and George Vamvakidis The Breeder / Directors
Sarah Kent / Writer and art critic
Saffet Kaya Bekiroglu Zaha Hadid / Architect
Robert Berman Robert Berman Gallery / Owner
Christian Baun LogoDesign DK / Founder
Lisa Wells Elizabeth Wells Appraisals and Fine Art Services / Owner
Jesper Thomsen Mews42 Gallery / Director
Barbara Polla ANALIX FOREVER / Owner & Director
Alfonso Artiaco Alfonso Artiaco / Founder
Annie Ivanova Studio Ivanova / Executive Director
Signature Collection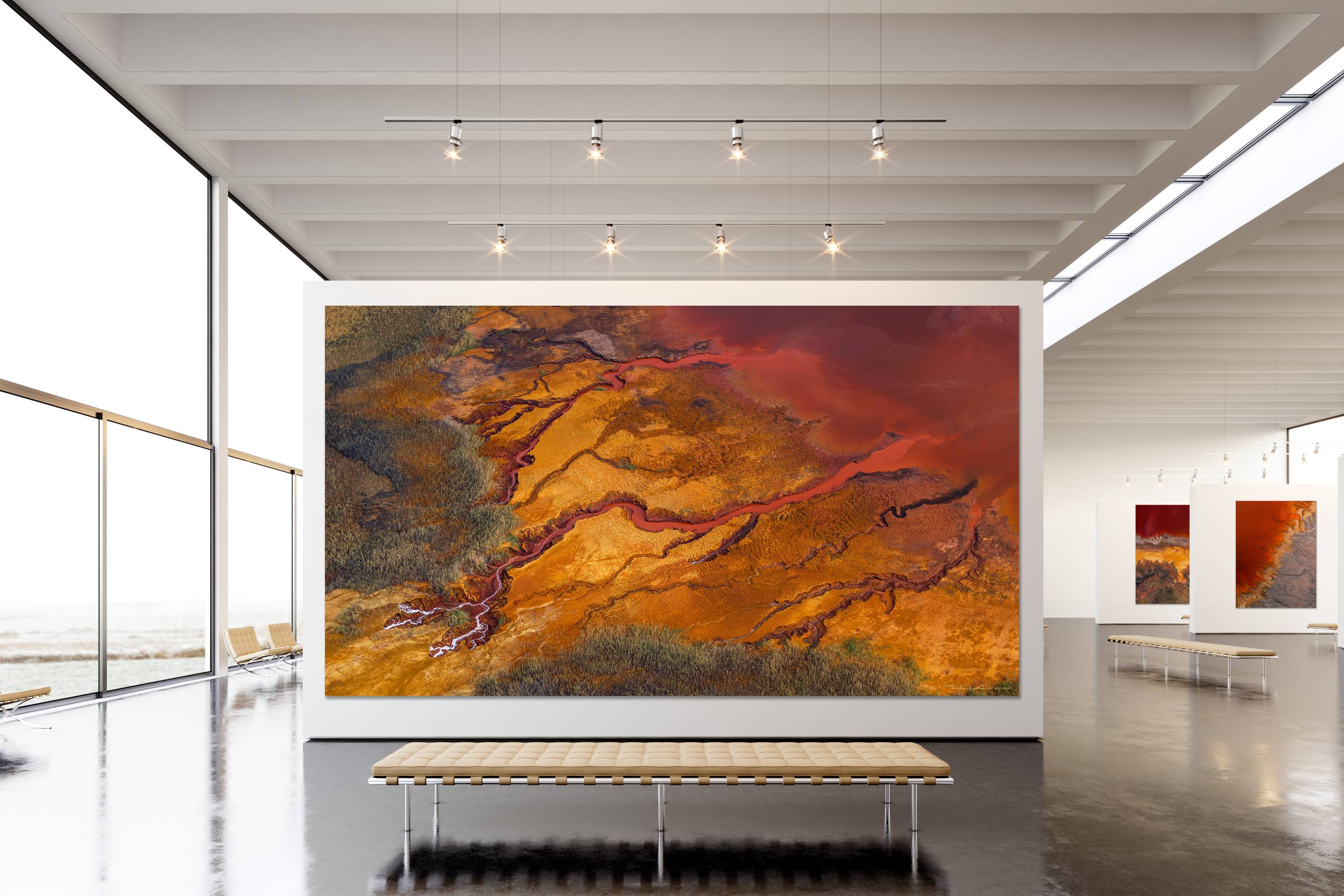 Our Signature Collection is designed to be at the very pinnacle of image quality and fine art presentation. We make no compromise in terms of image quality, material or craftsmanship.
Your chosen art piece is offered from a maximum collection of 150 worldwide, across all sizes manufactured. Each piece is handcrafted to absolute perfection, using only the finest museum-grade art materials in the world, signed, numbered and presented with a unique Certificate of Authenticity. Each Certificate of Authenticity has a unique edition number and is handwritten and signed by the Artist.
Our Signature Collection is offered in three exquisite art mediums; Canson® Infinity Platine Fibre Rag, Fujiflex Crystal Archive and the industry-leading gallery quality TruLife™ Acrylic Face Mount.

Our creation process is slow, meticulous and artisanal.