Sorry, no results.
Please try another keyword
Produced for Thor Fine Art Photography
Allow me to take you on a mesmerizing journey through the creation of "Stardust," a breathtaking classical music piece, a labor of love, crafted by the brilliant musical virtuoso, Simon Madsen, and my unwavering commitment to bring this unique composition to life.
Meet Simon Madsen, a true maestro hailing from the idyllic west coast of Norway. His connection with the piano began at the tender age of four, setting the stage for a lifetime of musical exploration. Proficient in both classical piano and organ, Simon's passion for creating melodies was apparent when he composed his first classical piece at the age of ten. As the years unfolded, his musical journey expanded into the realms of jazz, gospel, and funk, infusing his repertoire with rich rhythmic influences.
Simon Madsen is more than just an accomplished musician; he is a world-class improviser, possessing the extraordinary ability to move his audience profoundly and make them truly listen.
Music transcends mere notes, rhythms, and harmonies; it speaks a unique language of the heart, expressing what words alone cannot contain. Music has the power to pluck the strings of our innermost being and transport us to another realm. – Simon Madsen
The recording of "Stardust" was a truly special endeavor, taking place in the serene surroundings of Bremnes Church, a charming wooden sanctuary nestled in the municipality of Bømlo on the captivating west coast of Norway. The magic of "Stardust" was captured on a Fazioli F278 grand piano, an instrument handcrafted to perfection in Italy from carefully selected materials. Fazioli is renowned worldwide for its exceptional dynamic range and clarity, making it the perfect match for this soul-stirring composition.
Simon Madsen's "Stardust" delves deep into the essence of the universe's majesty and our unique role within it. It's a musical journey that transcends boundaries, leaving the listener with a profound sense of wonder and reflection. "Stardust" is more than a composition; it's a bridge between the stars and our souls, recorded in the enchanting acoustics of Bremnes Church.
The title itself encapsulates the essence of this piece. It offers a reflection on the stark contrast between the vastness, grandeur, and beauty of the universe and our own fragility and transience. In the grand scale of the cosmos, we are, indeed, "Stardust." Unlike the lifeless particles of the universe, we have the capacity to make a genuine difference during our limited time on Earth. Let us utilize our time to create beauty, balance, and harmony – Simon Madsen
As someone without formal musical training, I had the privilege of providing input and directions throughout this creative journey, collaborating closely with Simon Madsen. It has been an honor to witness the birth of "Stardust" and play a part in bringing this extraordinary piece to life. I hope you find as much joy in experiencing it as we did in crafting it. Together, we invite you to embark on this unforgettable voyage through the cosmos, led by the celestial notes of "Stardust."


Artist Simon Madsen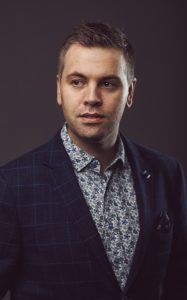 Foto © Haakon Nordvik www.haakonnordvik.com