Description

Artist Comments
"Swimming with the wild dolphins was a wonderful and magical experience that touched the very core of my soul. I feel utterly privileged to have experienced these magnificent sentient beings in their own home, on their own terms and to share the mutual joy of being together in the crystal clear, warm waters off the coast of Bahamas.
The pristine waters offered an unbelievable clarity with incredible colors, ranging from crystal clear turquoise to all imaginable shades of blues: ultramarine, azure, cerulean, royal blue, sea green and even rich purples.
From below, the water and surface shimmer as though it was glass, reflecting the beautiful dolphins and offering a unique perspective on this underwater paradise."



Open Edition
You can rest assure you will receive an art piece of the same impeccable image quality as the Signature Collection. We make no compromise in terms of image quality, material or craftsmanship.
"Interaction" is offered in the industry-leading gallery quality TruLife™ Acrylic Face Mount.
Fujiflex Crystal Archive
Fujiflex Crystal Archive is a highly specialized and superior photographic material. Fujiflex is a silver halide based polyester that produces exceptionally high quality, high gloss photographic prints that contain vivid colors and remarkable archival properties.
Unlike inkjet printing, printing to Fujiflex Crystal Archive is a specialized process using Chromira LED exposure technology. Photographs are not printed to the Fujiflex polyester material, they are exposed into the silver halide base with red, green and blue LED globes. The exposed Fujiflex is then processed in photographic chemistry to produce archival Digital C type photographic prints that we feel show the true beauty of our photographs.
TruLife™ Acrylic Face Mount
The frameless acrylic face mount offers an incredibly modern and brilliant display that no other art presentation can match. Each piece is handcrafted to absolute perfection. We make no compromise in terms of image quality, material or craftsmanship.
The FujiFlex Crystal Archive prints are professionally mounted face-first onto 1/8″ TruLife™ acrylic with diamond polished edges. The TruLife™ acrylic is then mounted to sturdy aluminum Dibond® backing, known for its remarkable stability and low weight.
This unique mounting solution protects the piece from dust, humidity and UV rays to prevent fading while showcasing the impeccable image quality, with a vibrant clarity of colors and remarkable depth of contrast.
Each piece is delivered with a Metal Inset Frame for effortless hanging on delivery.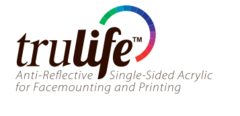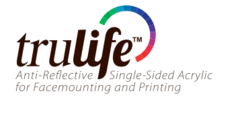 TruLife Acrylic features a single-sided virtually invisible anti-reflective coating allowing viewers to see the finest details. TruLife also is UV-filtering, abrasion resistant, and anti-static offer uncompromising protection and preservation.
Unlike traditional glass, where light simply passes through, the light refracts within the acrylic creating remarkable depth and brilliance. Details appear to emerge in 3D and light-activated silver halide give the artwork the appearance that it`s being illuminated from behind.