Artist Comments
"I was standing on a cliff edge 800 feet above the Geriangerfjord admiring the breathtaking Seven Sisters waterfall when the most spectacular natural phenomenon unfolded in front of my eyes.
As the first rays of light from the sun bounced off the waterfall spray it turned the waterfall into a beautiful fountain of color creating the most spectacular rainbow I have ever witnessed.
It was truly a rare occurrence thanks to a special set of circumstances and I am thrilled to have captured this truly unique moment in time".

The Geirangerfjord is a majestic fjord in the Sunnmøre region of Møre and Romsdal County in western-Norway. It`s often referred to as the jewel of the Norwegian fjords, surrounded by a fairytale landscape with majestic snow-covered mountaintops, wild and beautiful waterfalls and lush green vegetation. It has been listed as a UNESCO World Heritage Site since 2005
"The Seven Sisters" is one of the most famous waterfalls in Norway. As the name implies, it consists of seven waterfalls that thunder down the mountain side, just next to the abandoned farm of Knivsflå. "The Suitor" waterfall lies directly across the fjord from "The Seven Sisters".

The Legend of The Seven Sisters is that they dance playfully down the mountain. Meanwhile, across the fjord, the suitor flirts playfully with them from afar. 
Image Quality
Featuring an amazing 51.4 megapixels on a high-performance CMOS image sensor, the PENTAX 645Z assures super-high-resolution images with a stunningly realistic sense of depth combined with vivid colors and rich shadow detail. The resulting image features a uniquely distinct look and unmistakable brilliance. The CMOS image sensor, with an imaging area (43.8mm x 32.8mm) approximately 1.7 times larger than that of a 35mm full-size sensor.
The image below is a small crop from "The Seven Sisters" photograph. The mountain farm is Knivsflå.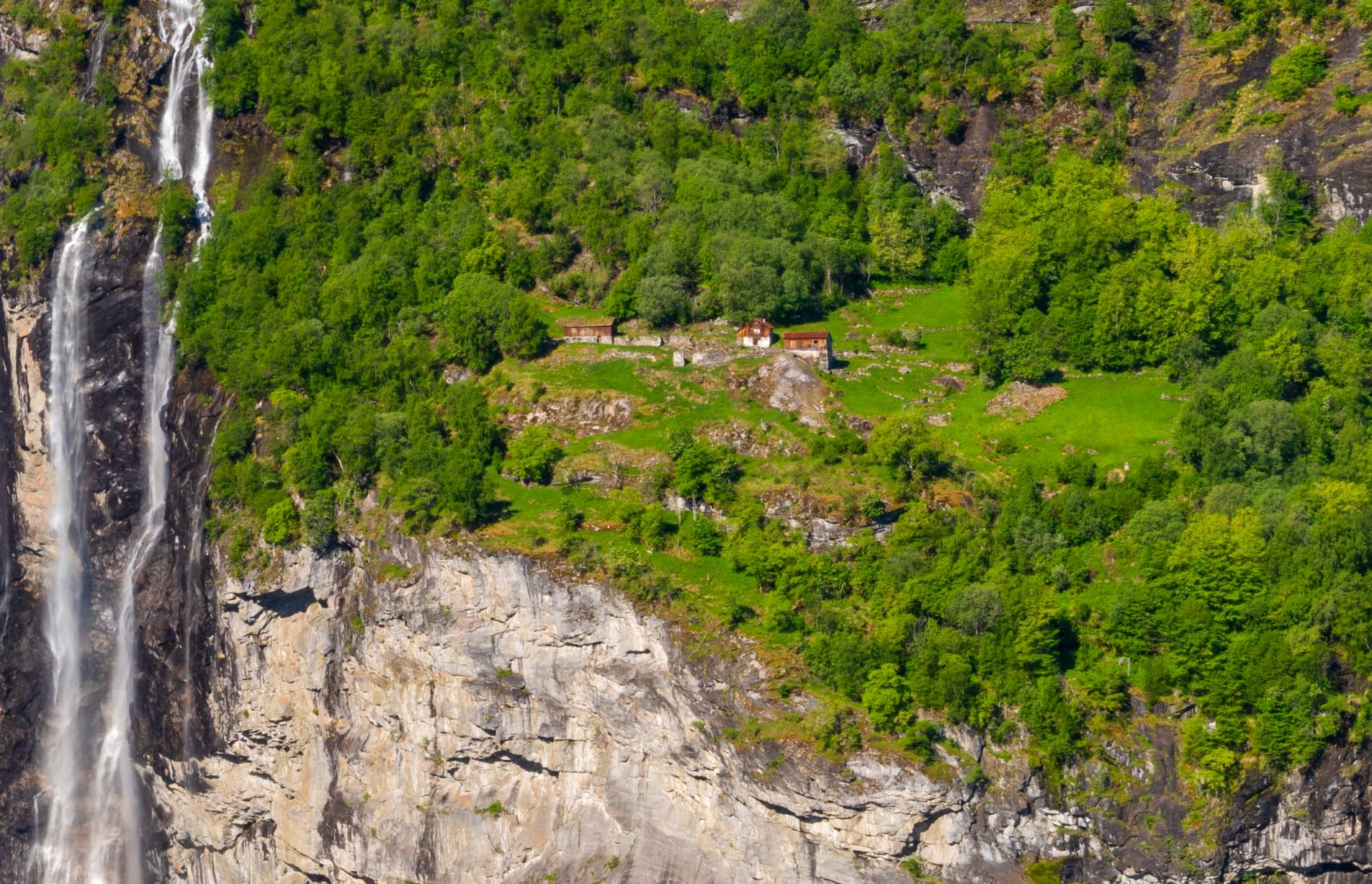 History and cultural heritage
The farms along the fjords – living cultural history
People have lived along the fjords and between the fjords and the mountains for thousands of years. In a harsh natural environment and a demanding climate, they found a way to make a living based on fishing and agriculture. One of the clearest signs of old cultural history is the abandoned farms along Sunnylvsfjorden and Geirangerfjorden.
Knivsflå Farm is one of a handful historic mountain farms on the steep mountainsides along the Geriangerfjord. The farm is located to the north of The Seven Sisters Waterfall and directly across the fjord from the old Skageflå Farm.
The land around the farm is dangerous with steep drops and riverbeds. Accidents and premature death have affected Knivsflå to a greater extent than at other fjord and mountain farms.
The Knivsflå farm lies on a shelf with a several hundred feet sheer vertical drop. This created challenges for those who lived there. Parents had to tie up their children playing outside to make sure they wouldn´t fall off the edge.