Article in Norwegian by Anniken Wathne – Journalist Varden Newspaper – Full size news article available in Norwegian at bottom of page.
A small cottage along Vråvatn in Telemark is the home of the world`s seventh best landscape photographer.
On a cold day in January the Varden journalist arrives at the small cottage located in the Telemark mountains.  The cottage is located in between majestic mountains covered in snow. Drifting smoke can be seen from the stone chimney. This is the home of Torleif Lie. Here he has been based for the last three years, pursuing his dream of working as a full-time fine art photographer. A decision which has resulted in a very successful career.
– I moved from the hectic city life in Stavanger to the family cottage beside Vråvatn in Telemark. Here I find inspiration and serenity for my work. Both of my parents were raised in this area, he says, pointing towards the mighty mountain landscape.
We sit on a couch surrounded by magnificent landscape photographs Torleif has captured over the years. Photographs of the Pulpit Rock, Kjeragbolten, dolphins playing underwater in the Bahamas and enchanting slot canyons in Arizona.
Although Torleif now works full time as a photographer, it was only a few years ago he made the life changing decision to pursue a career in fine art photography.
– Throughout my life I have always been passionate about photography and aviation. After eleven years working in the subsea industry photographing underwater, I moved to America to become a Commercial Pilot and a Flight Instructor. After completing my training, I was hired as a Flight Instructor at a Florida Flight Academy. During both my studies and the years I worked as a flight instructor I worked in parallel with photography and explored several US national parks to photograph the majestic landscape.
After returning to Norway, Torleif decided to move closer to his family in Telemark. He has a special connection to Telemark, after spending most of his childhood vacations at the family farm, surrounded by nature.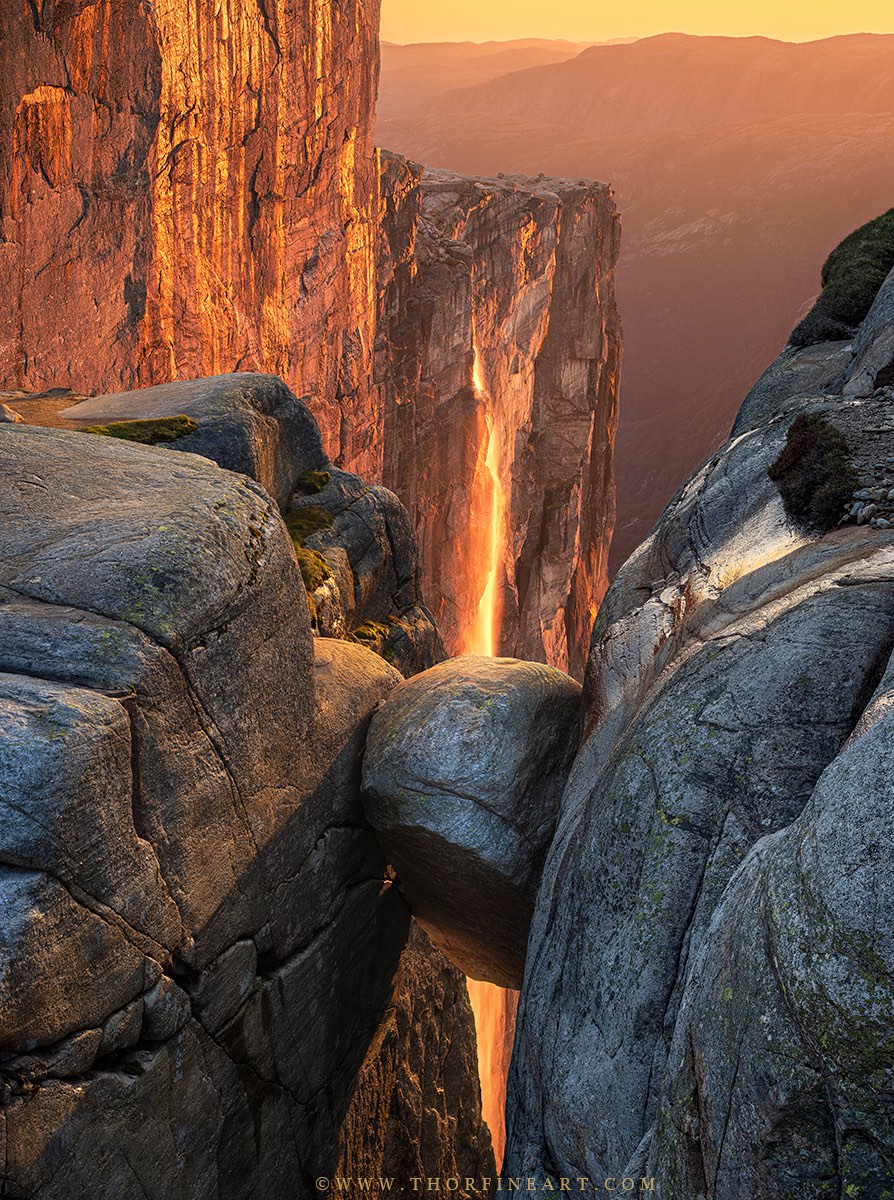 Torleif spent more than two hours photographing the famous Kjeragbolten in Lysefjorden. He says he spent several days at the mountain, but only a few hours capturing the images he used to create Zeus. Two hours is a very short time, since he usually spends several weeks to capture one perfect shot.
I have been a photographer for as long as I can remember
Torleif is a world class photographer. He have been awarded numerous awards and honors for his work in several prestigious international photography competitions. In December 2019, he was ranked the seventh best landscape photographer in the world by the prestigious One Eyeland Awards.
 – My father was a passionate photographer. He inspired me to explore photography. I have always been fascinated by how you can use a camera to express yourself, he says.
"There is only you and your camera. The limitations in your photography are in yourself, for what you see is what you are" – Ernst Haas.
Torleif`s family lived in Greenland for seven years, and his father, who is also a pilot and photographer, inspired his son to explore what has become his greatest passion and livelihood.
– One of my earliest childhood memories which made a strong impact was my father`s photographs from Greenland. The photographs were like a window into a different and exciting culture. Images of the raw landscape and the wild animals made a strong and lasting impression, he says.
At that time Torleif first started exploring photography he used an analoge camera with film which had to be processed and developed in a dark room. It was very different from how he works today with medium format DSLR camera systems.
– I do not consider a digital image file to be a completed work. Only after the digital file has been edited in a raw converter, the image has been printed on an fine art archival art medium and the fine art print is signed, numbered and framed, I consider it to be a completed piece. Printmaking and framing is an art form in itself! says Torleif.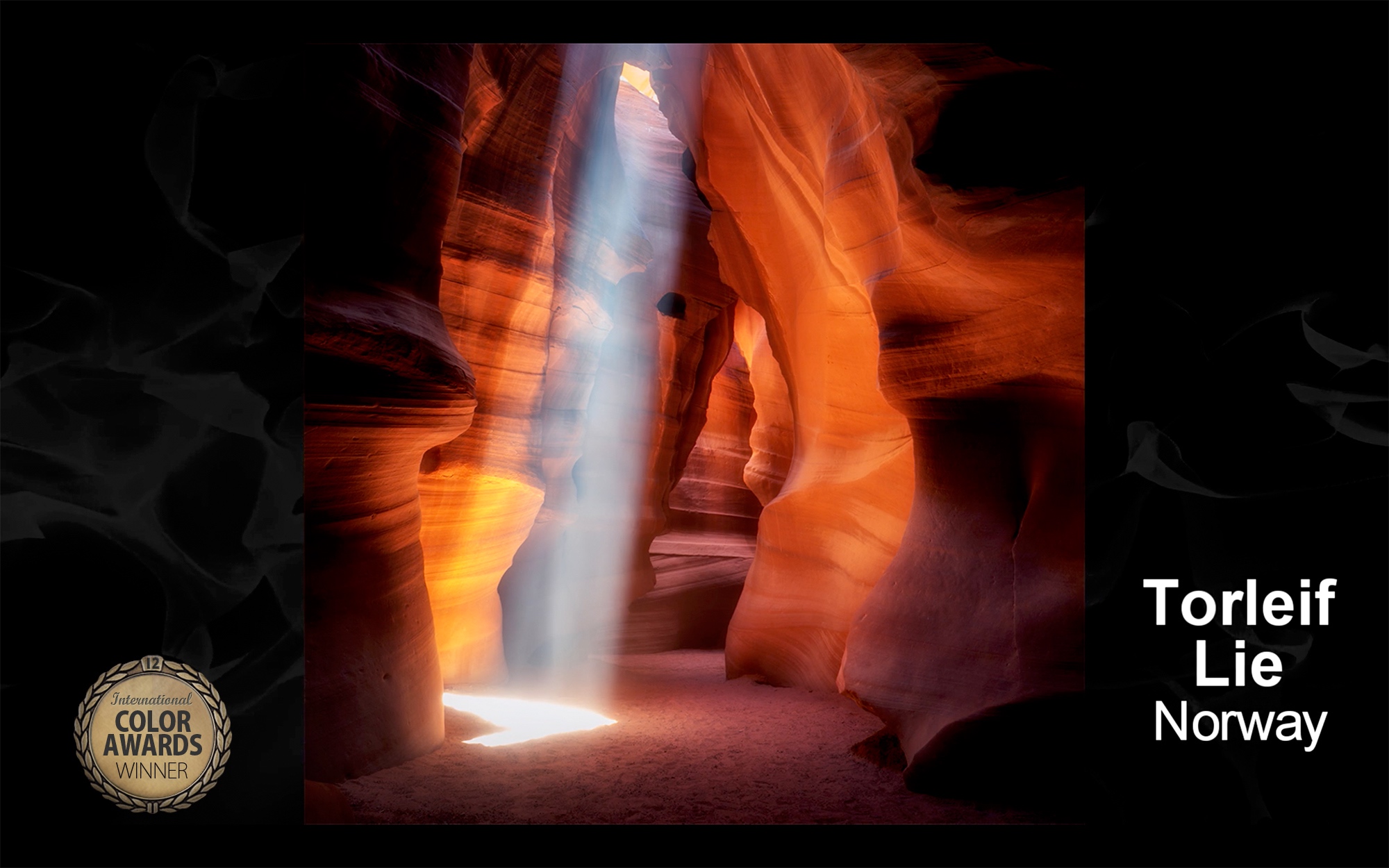 Creation Process
The artist devotes a lot of time editing and refining his photographs after the image files have been captured. He also spends a lot of time researching locations and deciding on a concept before he creates his photographs.
– I never travel to a location and start to randomly capture images. I first start with a concept. Fine art photography is first and foremost about conveying a message. That's is essential! I also devote a lot of time for research and preparation. There are also many environmental factors that contribute in achieving the desired result, such as the quality of light, season and weather conditions. An example is the image "Zeus" of the Kjeragbolt in Lysefjorden. There are only a few days a year when the elements are perfect, making it possible to create such an image.  
Torleif sometimes use an untraditional approach when creating his photographs. Seeing the completed fine art print one might belive it consist of only a single capture. Torleif explains he used several image files to recreate the the scene he wanted to portray in the final image.
– Most people are familiar with time-lapse video. A technique whereby the frequency at which film frames are captured is much more spread out than the frequency used to view the sequence. Time-lapse allows you to compress many hours or days into just a few seconds or minutes. Inspired by time-lapse video I wanted to create a photographic piece to conveyed my experience of the landscape over time. I photographed the majestic Kjeragbolt for hours, observing a symphony of dramatic light and colors. A single image file represents only a moment in time in this dynamic spectacle. By composing a photograph from dozens of image files I was able to recreate this magic.  
And you might think that two hours photographing a scene is quite a long time, but for Torleif, this is one of the shortest time intervals he use to capture the desired scene.
– When I create a photograph, I first start with a concept and a few months of research. Then I usually spend two weeks on location photographing the scene. It usually requires several months from the time I develop a concept to an image is completed. Some photographs I have worked on for several years.
The photographer says that he considers himself a visual storyteller.
– I communicate through my photographs.
Traveling the World
Although Torleif is based in Telemark, he spends several months a year away from home. His most recent projects was in Spain.  A series of images portraying the impact of humankind's destructive industrial practices on the natural environment.
– It was an important photographic project with a gloomy undertone. The landscape was fascinating and beautiful, but also very daunting, considering it is created by environmental pollution. The otherworldly patterns and colors reminded me of an abstract expressionism paintings, he says.
During his three months in Spain, he spent most of his time capturing images from the air. He rented an airplane and photographed the landscape from several hundred feet above the surface of the earth.
– Photographing the landscape out of an airplane window during such demanding conditions was quite exhausting. There was a lot at stake. Several months of research and planning, large investments and just a few hours to achieve the desired results.  
Although he travels the world to photograph, he does not hide the fact that there are some truly exceptional landscapes in Norway.
– Norway is known for spectacular natural landscapes, with sweeping glaciers, majestic fjords and mountains. After moving back to Norway after five incredible years in America, he had a strong desire to create personal interpretations of two of the country's most beautiful landmarks; The Pulpit Rock and Kjeragbolten.
– It was very rewarding to create photographs of these natural wonders that have such great personal significance. It is also very rewarding that they have become two of my most awarded photographs.
Torleif plans to spend some time working in his cottage and have not yet decided on his next photographic project. He says he is constantly researching, developing and planning new photographic projects.
– Photography is a career where you never stop learning, no matter how many years you've been devoted to your craft. I belive it's important to be humble, to have a desire to develop your skills and to explore new concepts. It`s a wonderful profession.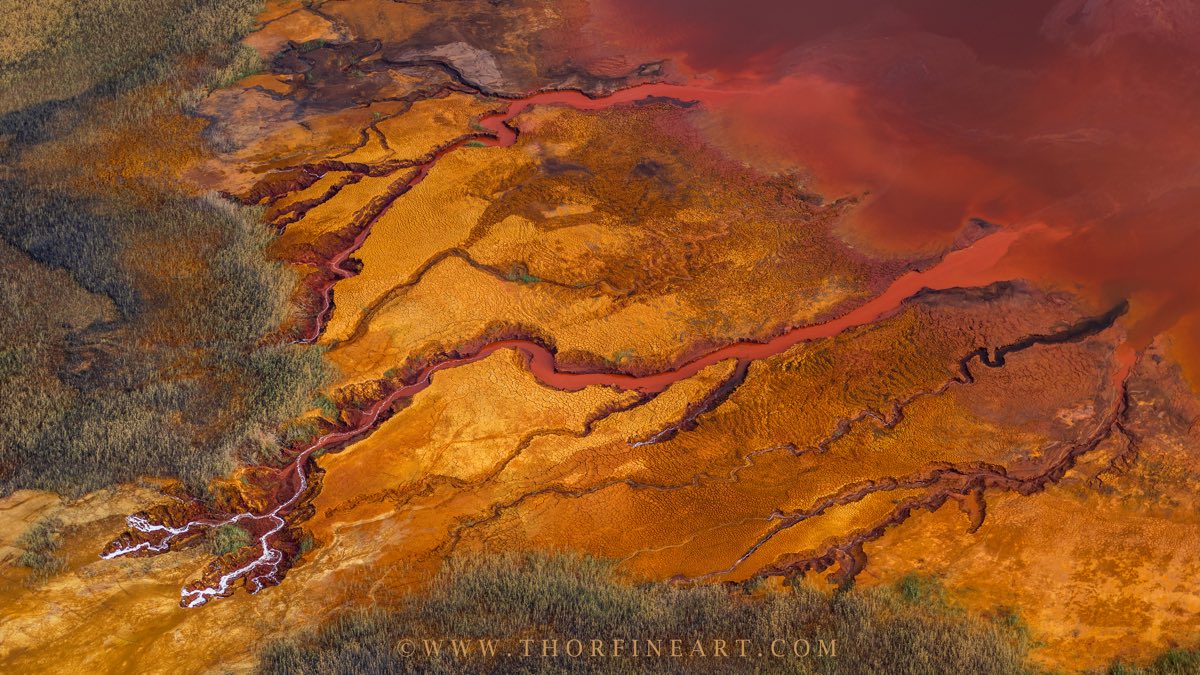 Based on original article in Norwegian by Anniken Wathne – Journalist Varden Newspaper
You can click on the images below to enlarge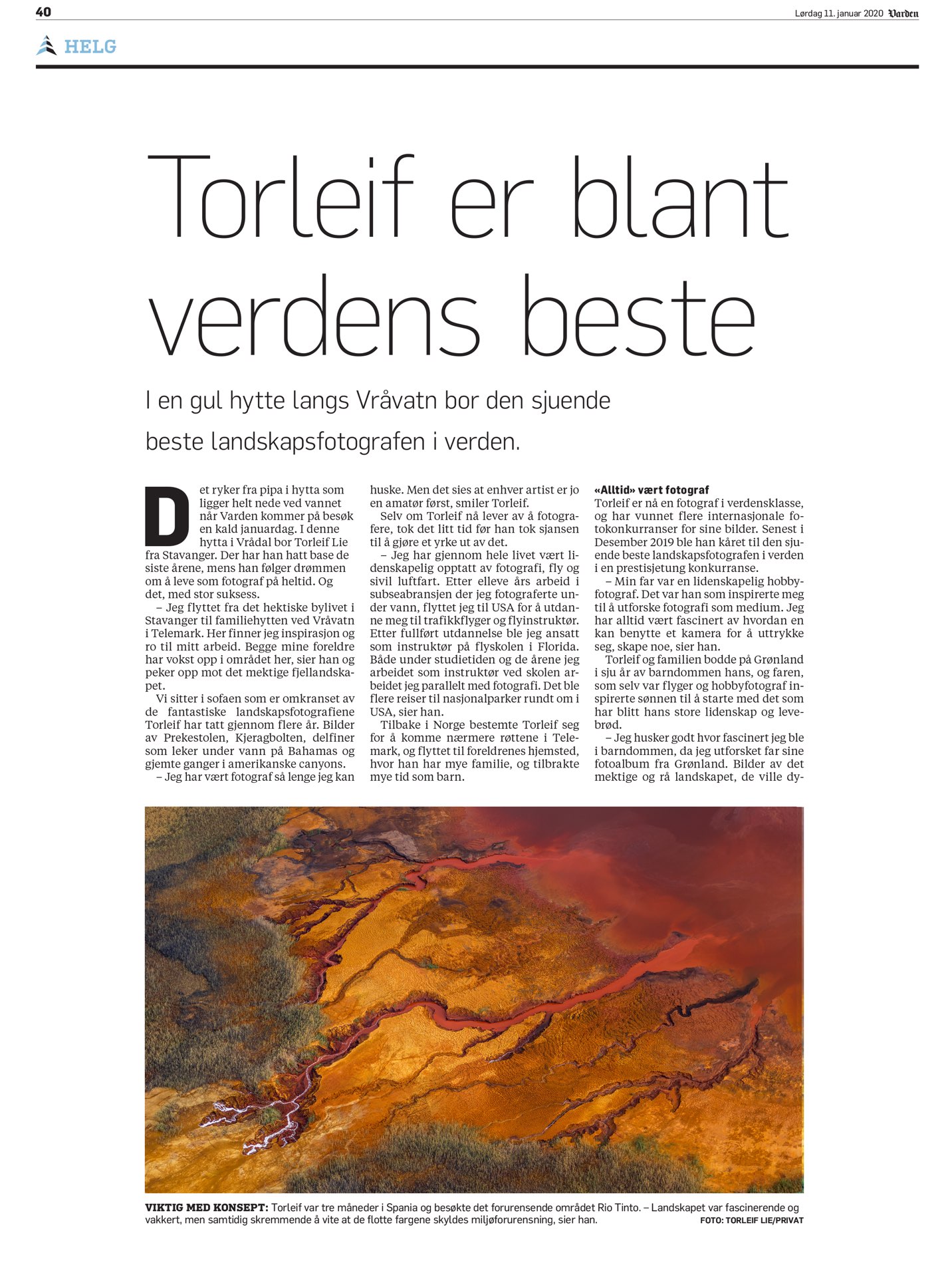 Varden is a local newspaper published in Skien, Norway.
The newspaper was first established with a test issue on 17 December 1874, with Johan Christian Tandberg Castberg as first editor-in-chief. It has been published daily since 1895. Its current editor-in-chief is Tom Erik Thorsen.
The leading newspaper in Telemark county for many years, Varden was surpassed by Telemark Arbeiderblad in 1974, only to regain the number one spot in 1988.
At the time Varden was established, newspapers in Norway had close ties with political parties. Varden was special in that it changed political allegiance from Liberal to Conservative, in 1953. The ties between political parties and newspapers no longer exist. Today, the newspaper classifies itself as an "independent" newspaper, which works to promote a liberal and democratic society with respect for individual rights, social fairness and free enterprise.
Varden has a circulation of 27,341 and 25,859 subscribers.
www.varden.no