Artist Comments
"I am overwhelmed and incredibly grateful to be a Gold winner in the prestigious Tokyo International Foto Awards 2019. The image "Zeus" was awarded Gold in the Landscape-Sunset category and Bronze in the Nature-Lanscapes category.
Congratulations to all the photographers and a huge thank you to TIFA, the incredible judges and the organizers who run this distinguished photographic competition."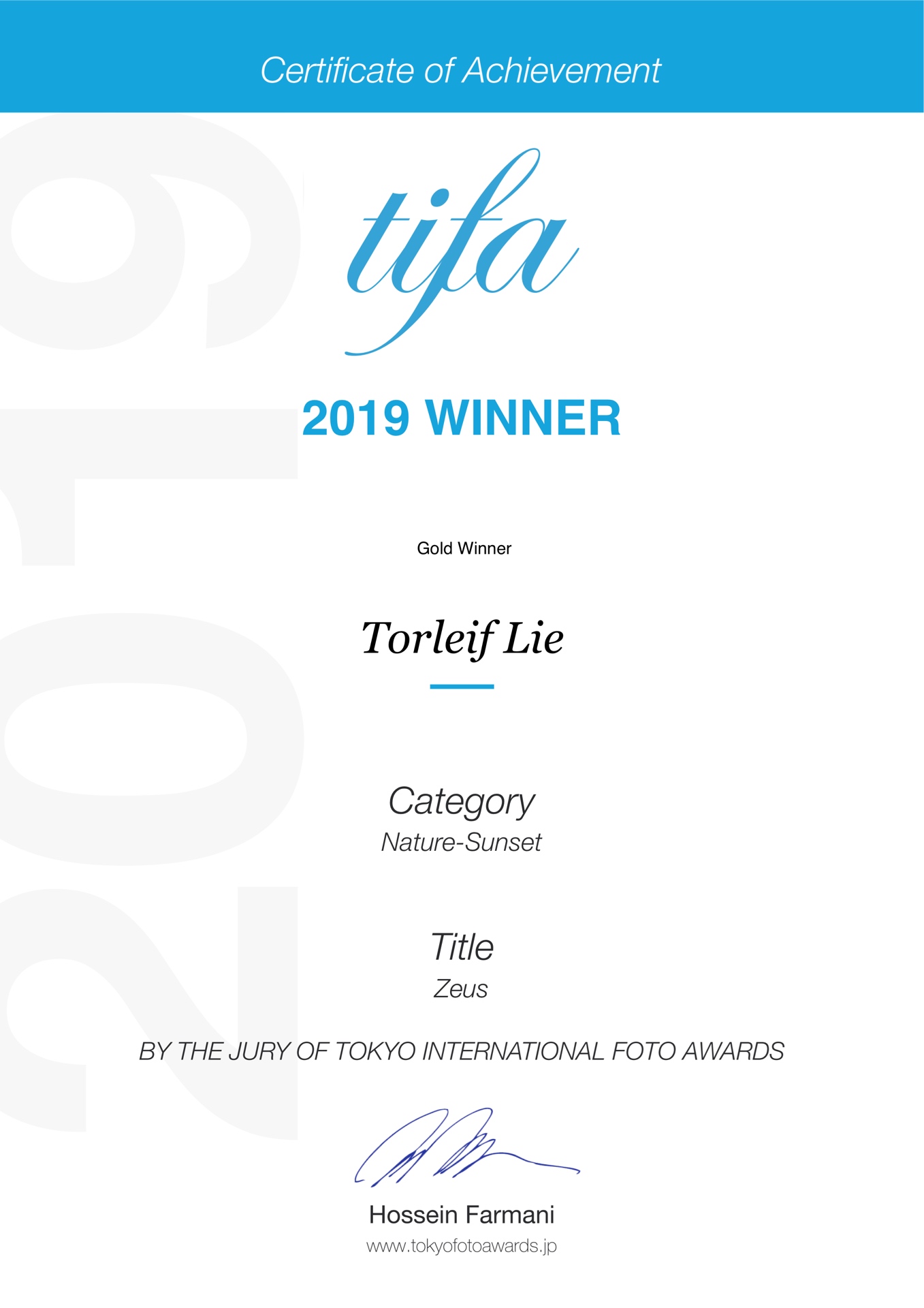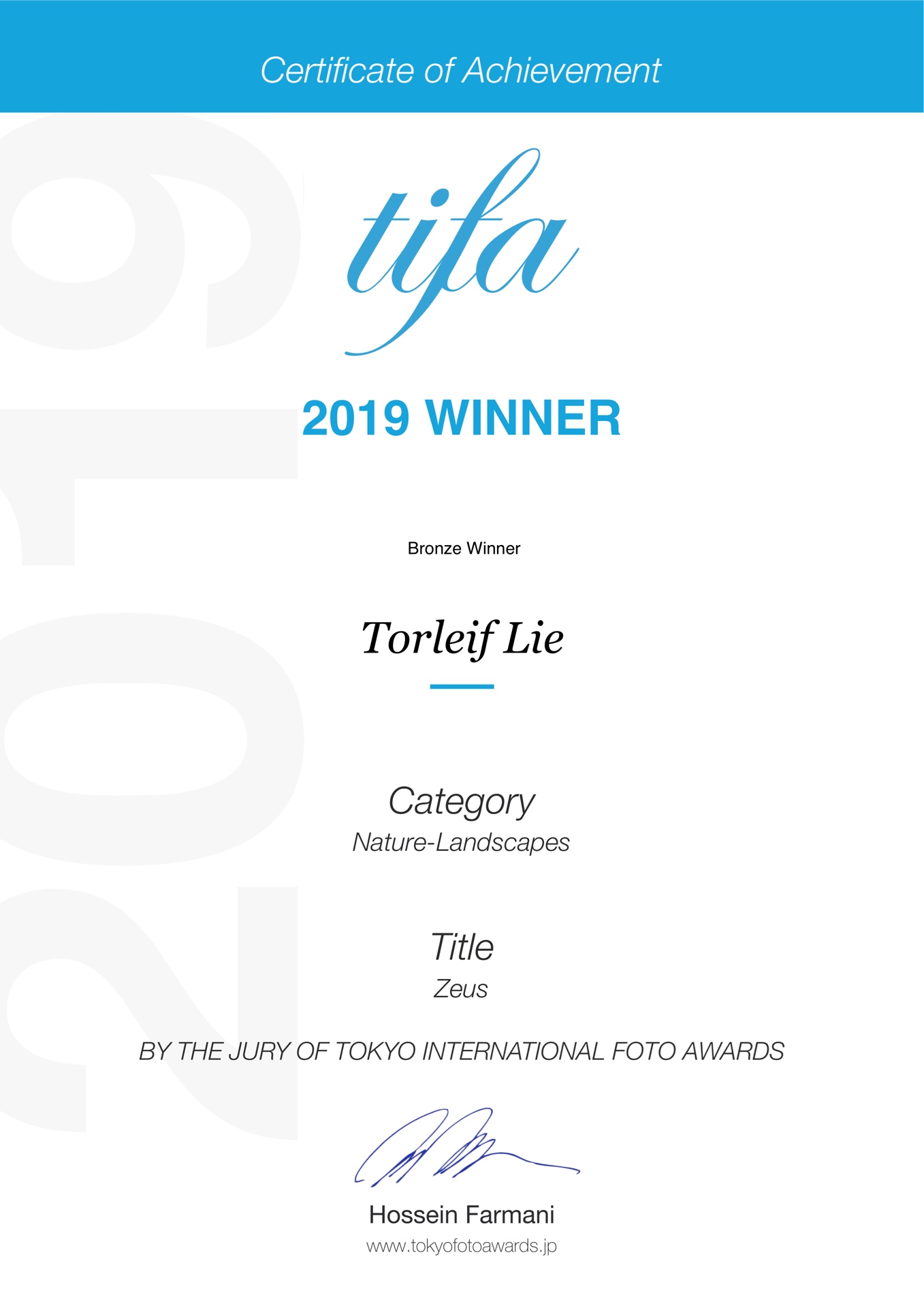 Tokyo International Foto Awards (TIFA)
In another tremendous year for TIFA, we received thousands of highly qualified entries from all around the world and our esteemed international Jury Panel reviewed each submission, based on the following criteria: originality, creativity, excellence of execution, and overall impact.
The Tokyo International Foto Awards acknowledges, commends, and promotes outstanding photography from all corners of the globe. TIFA connects photographers with the creative community in Tokyo, Japan, to provide them with an excellent platform to present their work to a new market.
www.tokyofotoawards.com
TIFA 2019 Jury
The Tokyo International Foto Awards 2019 was judged by a jury of renowned photo editors, professors, art directors, agency directors, gallery owners, curators, publishers and other influential luminaries.
Indrani Pal-Chaudhuri – Indrani / Photographer and Director
Kenro Izu – Kenro Izu / Photographer
Dr Akira Takaue – Independent Curator / Ph.D., Architect, P.E.jp
Alfie Goodrich – Japanorama / Owner of Japanorama
Tomohide Ikeya – Freelancer / Professional Photographer
Goh Kim Hui – Photographic Society of Singapore (PSS) / President
Jesper Thomsen – Mews42 Gallery / Director
Susan Baraz – AtEdge / International Director of Photography
Alessandro Scali – Nanoart, OKKULT Motion Pictures
Soichiro Shimizu
Timothy B. Anderson – Shadow & Light Magazine, The Journal / Publisher/Managing Editor
Casey Kelbaugh – Slideluck
Prof. William Snyder – Rochester Institute of Technology / School of Photographic Arts & Sciences / Program Chairman -Photojournalism
Beate Chelette – PhotoBizCoach
Beliy Den – National Association of Professionals of the Photoindustry / Development Director of NAPP
Susan Spiritus – Susan Spiritus Gallery / Director
Rohit Vohra -APF / Editor in Chief
Lucy Bell – Lucy Bell Fine Art Gallery / Curator
Sherrie Berger – Photography Consultant / Photography Consultant and Creative Collaborator / Director
Hossein Farmani – The Lucie Awards, IPA / Founder / Curator
Frank Meo – The Photo Closer / Founder
Christophe Loviny – Yangon Photo Festival / Artistic Director