The Color of Life
The color of life blinds us,
It spells gentle lies, uttered softly
It is just but noise,
The white noise of culture and society.
When the colors are gone,
We are given the insight into form,
We are aware of the ghosts
That hide within,
We are now aware.
When colors are gone,
We see the truth,
We see the great mysteries,
That were hidden from us.
To see the world, truly
You must see past ordinary realities.
To see the world, truly
You must see beyond the veil.
When colors are gone,
The veil is disclosed.
Then you are invited to see
What matters, the spiritual, the ghosts.
TORLEIF LIE OF NORWAY WAS AWARDED BRONZE IN THE PX3 2019 COMPETITION.
PARIS, FRANCE
PRIX DE LA PHOTOGRAPHIE PARIS (PX3) ANNOUNCES WINNERS OF PX3 2019 COMPETITION.
Torleif Lie of United States was awarded Bronze in the category Nature/Landscape – Professional for the entry entitled "Oneiri". The jury selected PX3 2019's winners from thousands of photography entries from over 85 countries.

Winning photographs from this competition are exhibited in a high-profile gallery in Paris and published in the high-quality, full-color Px3 Annual Book.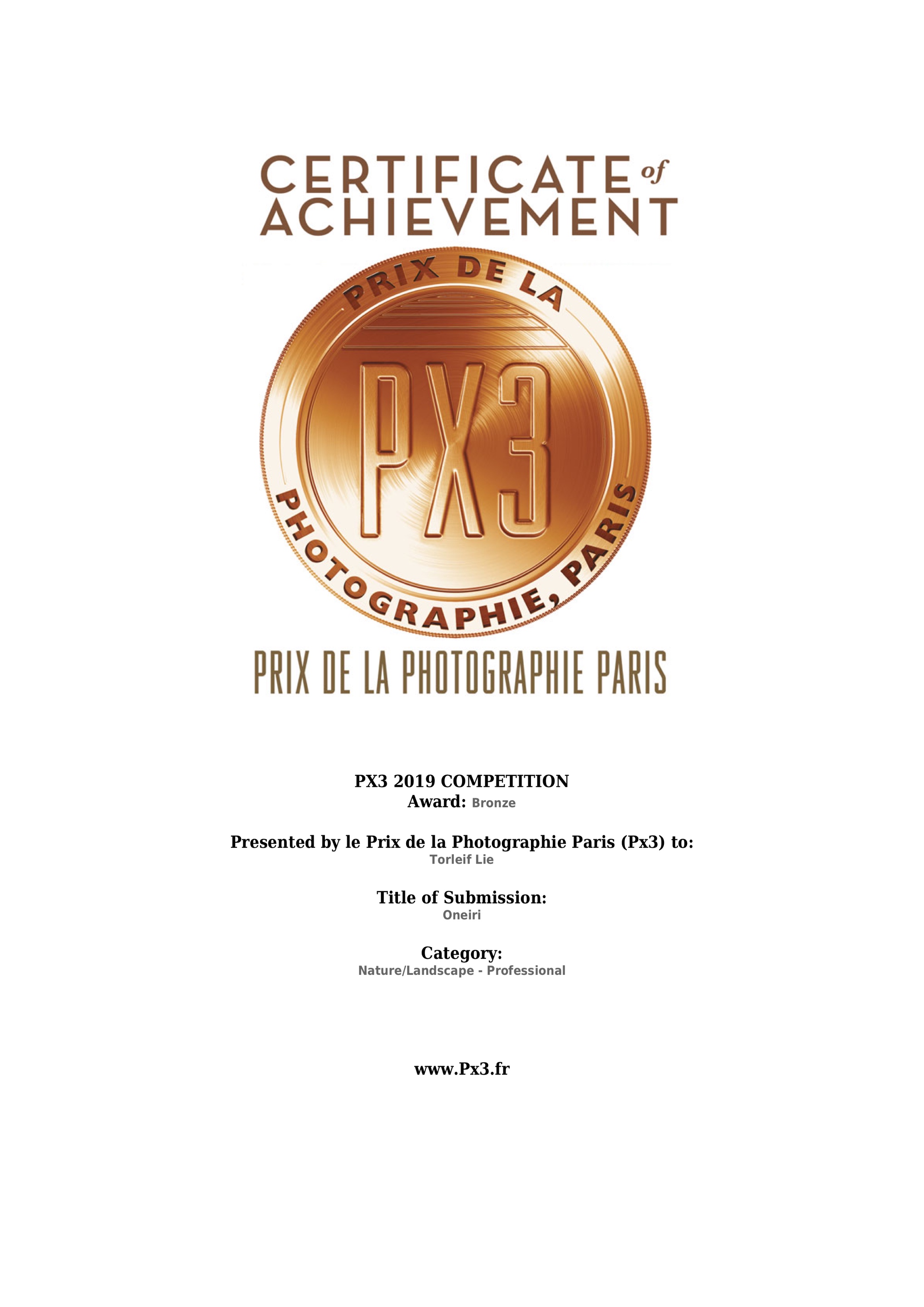 P×3 Jury
Juried by leading editors, publishers, curators, gallery owners, consultants, creative directors, and art directors, P×3 brings the best of photography from across the globe to Paris.
Anna Sansom – State of the World – 2019, Steve McCurry – Photographer, Sean Davey – Photographer – Editor, James Wellford – National Geographic, Susan Baraz – Lucie Awards, Eliane Laffont – Laffont Inc, Kenan Aktulun – Truth, Daria Bonera – Daria Bonera Agency, Samuel Nja Kwa – Forbes Afrique, Osceola Refetoff – Photographer, Michket Krifa – Artistic Director, Mauricio Ladesma – Latin American Fotografia and Illustraciòn, Janette Danel – KijK Galerie, Christophe Loviny – Yangon Photo Festival, Caol Johnson – Freelance Curator, Christian Gogolin – GEO magazine, Mortiz Neumüller – The Curator Ship, Nan Oshin – Freelance, Fausto Marci – Melkart Gallery, Clèment Saccomani – NOOR, Torvald Derksen – Kunst. nl – Business Art Service, Gina Martin – National Geographic Creative, Guillaume Bonn – Lens based Media Artist, Jerome Huffer – Paris Match, Chiara Mariani – Corriere della Sera, Nan Oshin – Freelance,  Jesper Thomsen – Mews42 Gallery, Patrice Farameh – The Curated Collection, Nicolas Havette – Galerie Le Magasin de jouets, Nathalie Belayche – Visual Delight,  , Sean Davey – Photographer – Editor, Vineet Vohra – Art Photo Feature Magazine, Sherrie Berger – Photography Consultant and Creative Collaborator,  Javid Ramezani – Tandis Art, Samuel Feron – Terra Quantum, Isabelle Peracchi – Michelle Filomeno Agency,  Fernando Gutiérrez-Juárez – dpa Deutsche Presse-Agentur GmbH, Bernard Utudjian – Galerie Polaris, Arnaud Adida – A Galerie, Anna Zekria – photographer.ru, Christine Ollier – Filles du Calvaire, Françoise Paviot – Galerie Françoise Paviot, Viviane Esders – Expert près la Cour d'Appel de Paris, Jean Francois Camp – Espace Dupon, Patricia Lanza – Annenberg Space for Photography, Rebecca McClelland – New Statesman Magazine, Tatiana Kurtanova – Journal of Portfolio / FotoLoft Gallery

ABOUT Px3:
The "Prix de la Photographie Paris" (Px3) strives to promote the appreciation of photography, to discover emerging talent, and introduce photographers from around the world to the artistic community of Paris. The Paris Photography Prize was founded in 2007, and has since become one of the most prestigious photography awards in Europe.
Visit http://px3.fr
About the Winner:
My vision is to travel the globe on an eternal quest to capture unique moments in time, by creating imagery of our magnificent and fragile planet. Capturing the raw beauty and living energy of Mother Nature with all her natural wonders and beautiful creatures is my inspiration and what I live and crave for. Through the imagery I create I try to reach out to touch the heart and soul of my audience and to open their mind and awareness for the enchanting beauty of the natural wonders in the world that we live in. I welcome you to take part of my journey through the images I create. 
contact@thor.photography