CHIEF EXECUTIVE OFFICER GIUSEPPE SCOZZI STATEMENT
The quality of images entered from teams around the world gets stronger every year. The WPC is the only Olympics style event in the world for Photography. WPC Chief Executive Officer Giuseppe Scozzi, who led the ceremony, said "Over the past ten years the competition has grown and with it the standard of entries. WPC truly showcases the best in photography from across the world. Those who do succeed can truly claim to have created the best photography in the world and WPC is the vehicle for showcasing this work."
Images of this 10th anniversary edition of the WPC Competition can be seen online at www.worldphotographiccup.org
WPC wishes to thank the Singapore Photographic & Digital Imaging Trade Association (SPDA) and its President, Mr George Lin, and SPDA Organising Committee for hosting such a wonderful event.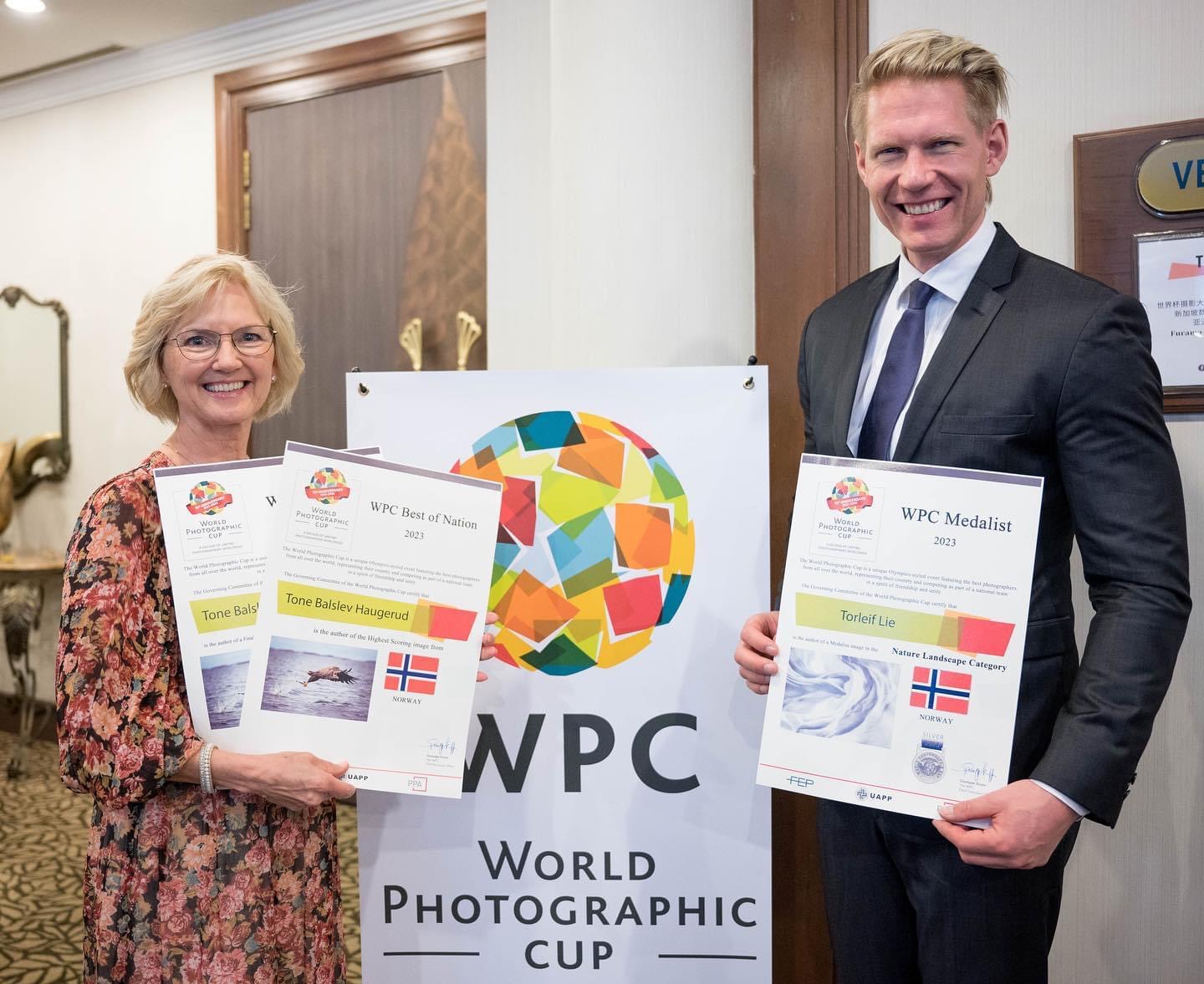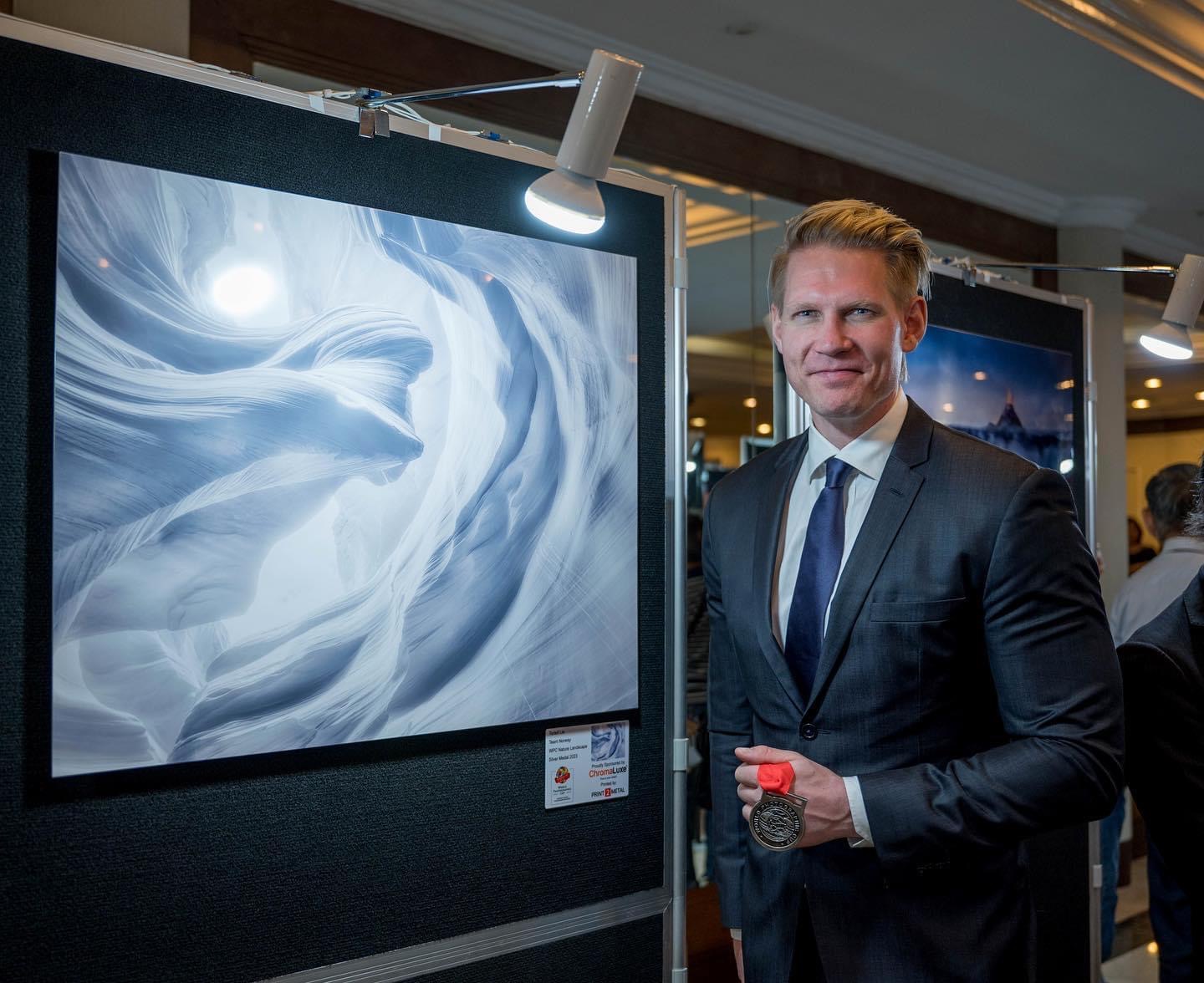 Photo: Elena Garm
Results Team Norway
Torleif Lie – Silver – Nature-Landscape
Brun Wilhelmsen – 6th Place – Wedding
Tone Balslev Haugerud – 9th Place – Nature-Wildlife, Best of Nation




MEXICO WINS THE CUP FOR SECOND YEAR IN A ROW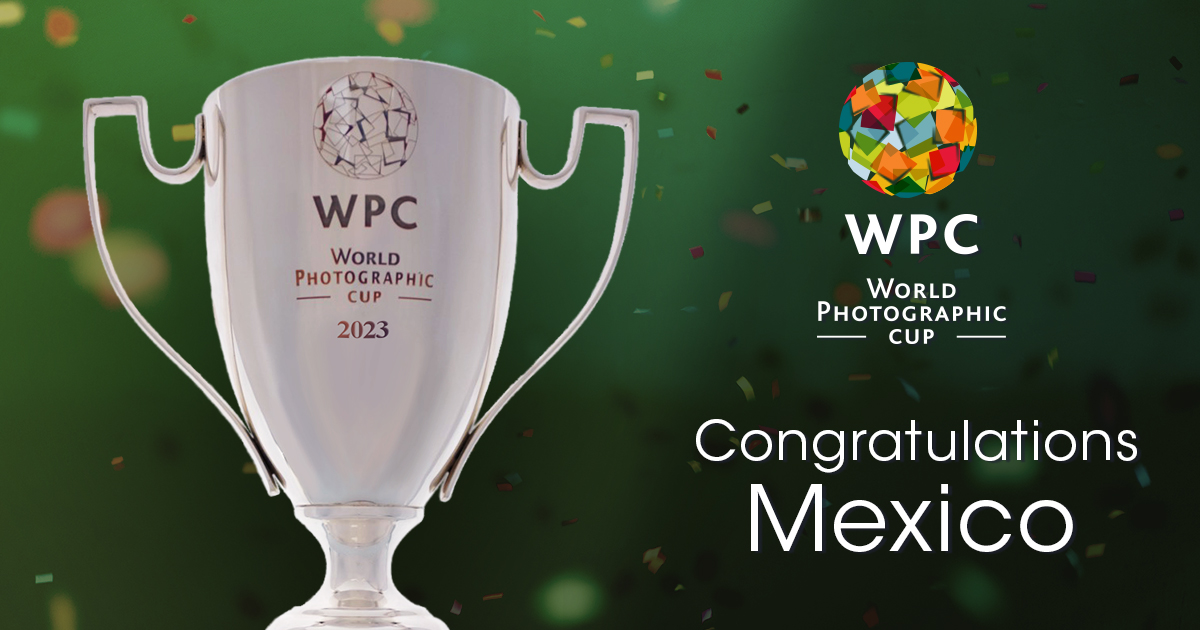 Singapore March 17th 2023
World Photographic Cup Winners Announcement and 10th Anniversary
The results of the 2023 Edition of the World Photographic Cup (WPC) have just been announced and team Mexico – lead by Team Captain Marian Bliss Blake have taken out the coveted Cup for the second year in a row.
The results of the 2023 competition were very close. Only three points separated the podium finishing teams. After Mexico in first place, Team Australia took out the second place crystal trophy followed by Team United States in third place. Also in the Top10 teams rank: Malaysia, 4th place, Portugal, 5th place, Brazil, 6th place, UK, 7th place, Austria, 8th place, Costa Rica, 9th place and New Zealand, 10th place.
The 2023 Gold Medals went to Eduardo Gómez, Team Mexico, for the Commercial category; Ben Shirk, USA, in the Illustration/Digital Art category; Laura Bennet, also from USA, for the Nature-Landscape category; David Keep, Team UK, in Nature Wildlife; Forough Yavari, from Australia, in the Illustrative Portrait and Robert Coppa, also from Australia, in the Natural Portrait category; Luís Bento, Team Portugal got the Gold medal in the Reportage category and Roger Tan, from Malaysia, in the Wedding category. With Austria, France, Greece, Japan, New Zealand, Norway and Slovakia also joining the individual medal circle.
JURY
The entries of the World Photographic Cup – was evaluated by a selected group of world-renowned gallerists, photo editors and directors, collectors, photographers, and other photography luminaries.
Fiona Handbury – Australia
Georg Ott – Austria
Paul Gheyle – Belgium
Maude Holly – Canada
Shengjun Zhou – China
Lingie Granados Acòn – Costa Rica
Jan Rasch – Czech Republic
Jens Erik Baek – Denmark
Pamela Corrales – Ecuador

Antti Karppinen – Finland
William Moureaux – France
Nik Pekridis – Greece
Nedo Baglioni – Italy
Masaharu Inuzuka – Japan
Kuan Tan – Malaysia
Salomòn Gonzàlez – Mexico
Kaye Davis – New Zealand
Jens Eldøy – Norway
Elvira Lòpez Fàbregas – Panama

Naveid Ahmed Siddiqui – Pakistan
Edwin Tuyay – Phillipines
Jerònimo Heitor Coelho – Portugal
Stanislav Mihàlik – Slovakia
Jacobo Gayo Gramary – Spain
Martina Wärenfeldt – Sweden
Sean Conboy – UK
Cris Duncan – USA

World Photographic Cup
The WPC was founded in 2013 as a cooperative effort by The Federation of European Photographers (FEP) and Professional Photographers of America (PPA). Its singular goal is to unite photographers in a spirit of friendship and cooperation. A Governing Committee has been created to conduct the ongoing affairs of the competition, also supported by the UAPP (United Asian Professional Photography). The brotherhood and sisterhood of photography is a bond that transcends language, culture, and geography. That's the foundation behind the World Photographic Cup, a one of a kind international team competition.
Leadership succession
After 10 years of competition and many more leading up to the first awards Presentation, inaugural CEO Giuseppe Scozzi has announced his retirement and finished his role after the presentation in Singapore.
Giuseppe Scozzi said "WPC is an amazing competition. I am incredibly proud to have been part of its formation and the inaugural CEO for the past ten years. It has grown remarkably during this time and I thank everyone who has shared this journey with me. Following WPC's 10th anniversary, it is now the ideal time to pass on the leadership of the organization. I wish WPC all the best for the future and I will follow it with keen interest."
Long-serving Governing Committee member and Australian based photographer Kylie Lyons is the new CEO. Kylie has been a member of the Governing Committee since 2014 and a member of its Judging Subcommittee.
Kylie Lyons said "It has been wonderful to see how WPC has grown and matured over the years. This is an exciting time for WPC. It is an honour to take on this role and work with my fellow Governors as we focus on further growth, showcasing world class photography and uniting photographers around the world into the future. The next ten years will be just as important as the first ten. WPC is a great organisation with incredibly capable and dedicated people who are committed to delivering excellence for our competition. I look forward to continuing the great work of Giuseppe Scozzi, Martina Scozzi Giovannini and all the past and present Governors."
SINGAPORE PHOTOGRAPHIC & DIGITAL IMAGING TRADE ASSOCIATION
Image Source: https://www.spda.org.sg/
The Singapore Photographic & Digital Imaging Trade Association started way back in the end of the 19th Century and flourished at the turn of the century. After World War II, the photographic industry resumed its activity and sees photo equipment businesses and photo studios began to bloom. It has since progressed from an individual association in 1960 till today a government-recognized trade association.