Exquisite fine art prints for the world's most discerning Collectors

Recent News
The Artist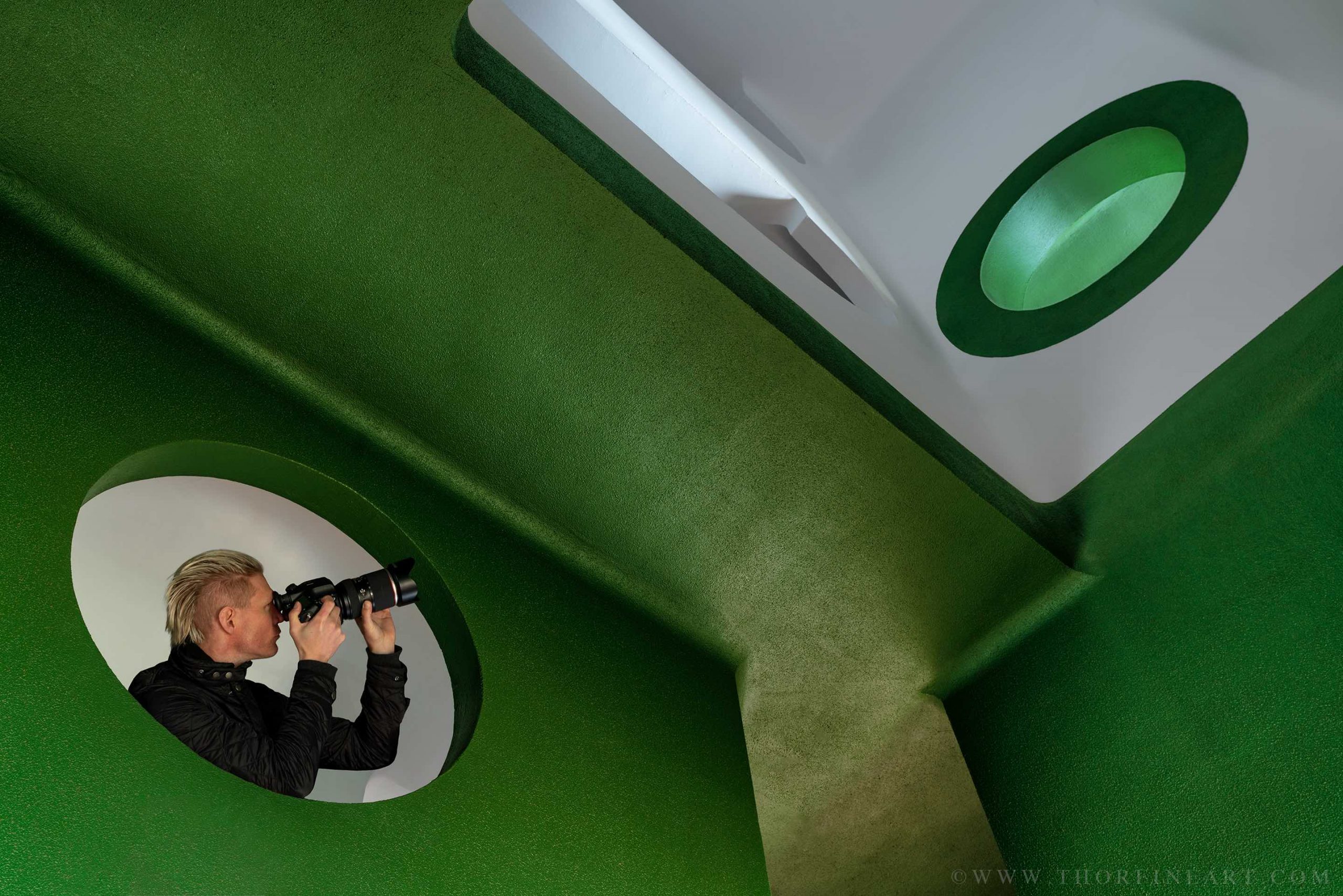 Art
Art is about communication, emotion, creativity and originality. Art is also about cognitive processes and intellectual work in relation to an underlying idea and an overall concept. Images needs to be more than merely a demonstration of technical excellence. They need to tell a story or convey a message by evoking feelings and thoughts in the observer.
The Work
Creating photographic art is my greatest passion and something I feel compelled to do. My work reflects strong dramatic emotions and the beautiful, but with a fragility and an underlying message. I consider myself an artist who uses photography to express myself.
Inspiration
Inspiration is about who you are and what you have experienced, your inner images, impressions and experiences.
My desire is to create something unique, something timeless and something that inspires and creates emotions. Photographs that convey messages and ask questions.
My work is inspired by the works of Ansel Adams, Henri Cartier-Bresson, Edward Burtynsky, Andreas Gursky, Howard Schatz, Elliot Erwitt and Alfred Stieglitz.
"Photography is an art of observation. It has little to do with the things you see and everything to do with the way you see them."
Elliot Erwitt
Motivation
My motivation and what compels me to create is a strong passion for photography as a medium of expression. I have a strong desire to always create better images and work consciously to further develop as a photographer. I consider feedback and criticism as important tools that enable me to learn and grow as an artist.
The passion I have for photography gives me motivation. It is in the creative process where I develop my artistic approach and it is the experiences on my journey that drives me.
Contact Form
Signature Collection
Our Signature Collection is designed to be at the very pinnacle of image quality and fine art presentation. We make no compromise in terms of image quality, material or craftsmanship.
Signature Edition photographs are offered in limited edition runs of 150 large-format fine art prints and TruLife Acrylic pieces. Once the edition sells out, there will never be another reprint of that photograph.
Each piece is handcrafted to absolute perfection, using only the finest museum-grade art materials in the world, signed, numbered and presented with a unique Certificate of Authenticity. Each Certificate of Authenticity has a unique edition number and is handwritten and signed by the Artist.
Signature Collection photographs are offered in exquisite art mediums and art presentations; Canson® Infinity Platine Fibre Rag, the industry-leading museum quality DIASEC®TruLife™ Acrylic and as Gallery Exhibition Pieces.
You can ensure that your chosen art piece will be treasured for generations to come.
DIASEC® TruLife™ Acrylic Art Piece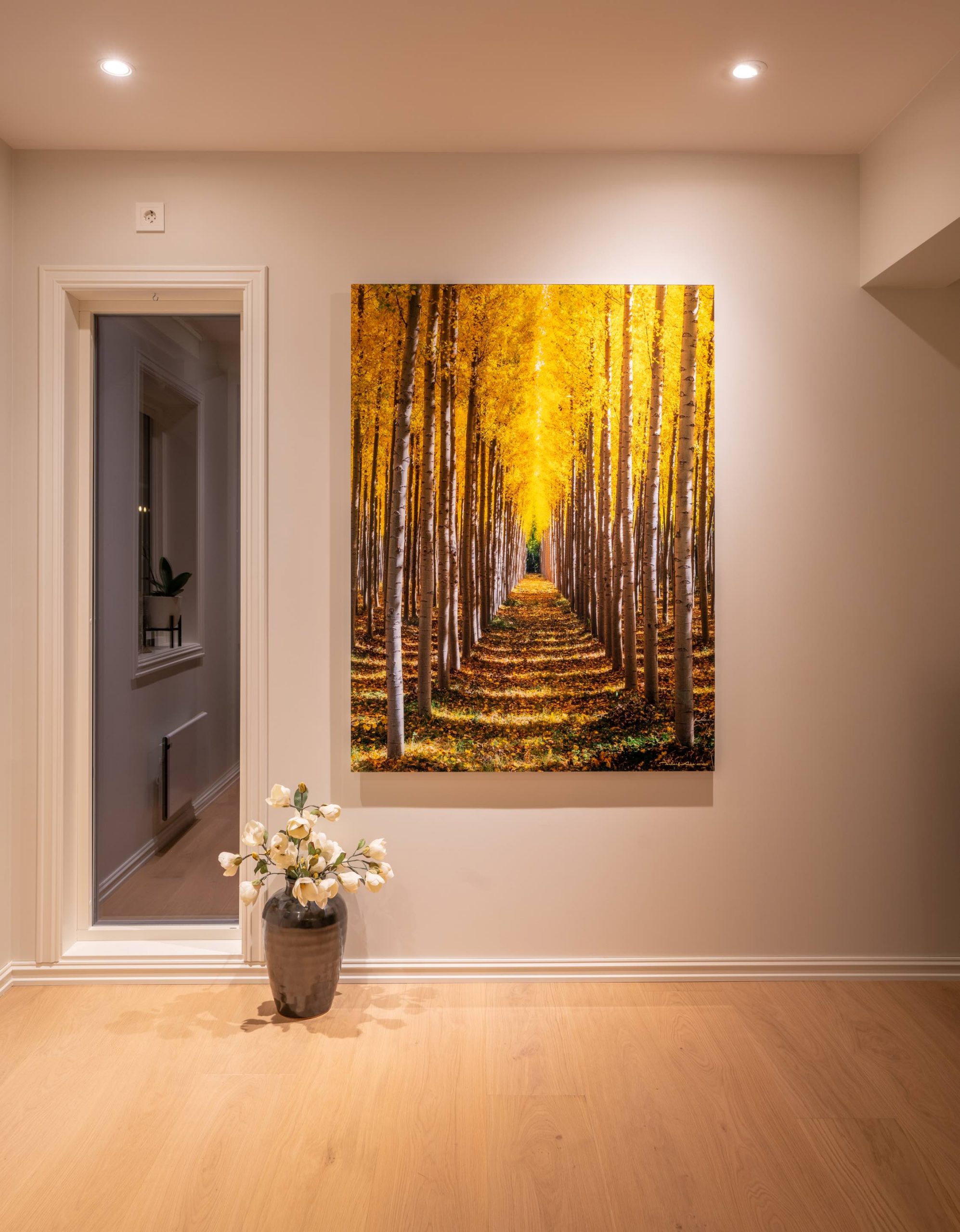 TruLife™ is a revolutionary single-sided, anti-reflective, abrasion-resistant acrylic, developed specifically for DIASEC® mounting. It delivers the highest-resolution viewing experience possible.
The DIASEC® TruLife™ acrylic face mount offers an incredibly modern and brilliant display that no other art presentation can match. Each piece is handcrafted to absolute perfection.
The FujiFlex Crystal Archive art medium is professionally mounted face-first onto 1/8″ TruLife™ acrylic with 1/8″ plexi backer. The adhesive used in a real Diasec is a silicon adhesive combined with a proprietary product that ensures a complete and permanent bond.
Each piece is delivered with a Metal Inset Frame for effortless hanging on delivery.
We ship these exquisite art pieces worldwide.
Museum grade acrylic for DIASEC® process

Anti-reflective. Virtually eliminates reflections

99% UV protection

Anti-static properties minimizes dust on viewing side

Abrasion resistance thanks to durable hard coat

Shatter resistance
Unlike sticky film based acrylic face mounts that look similar, Diasec is engineered to never separate, peel, or fail.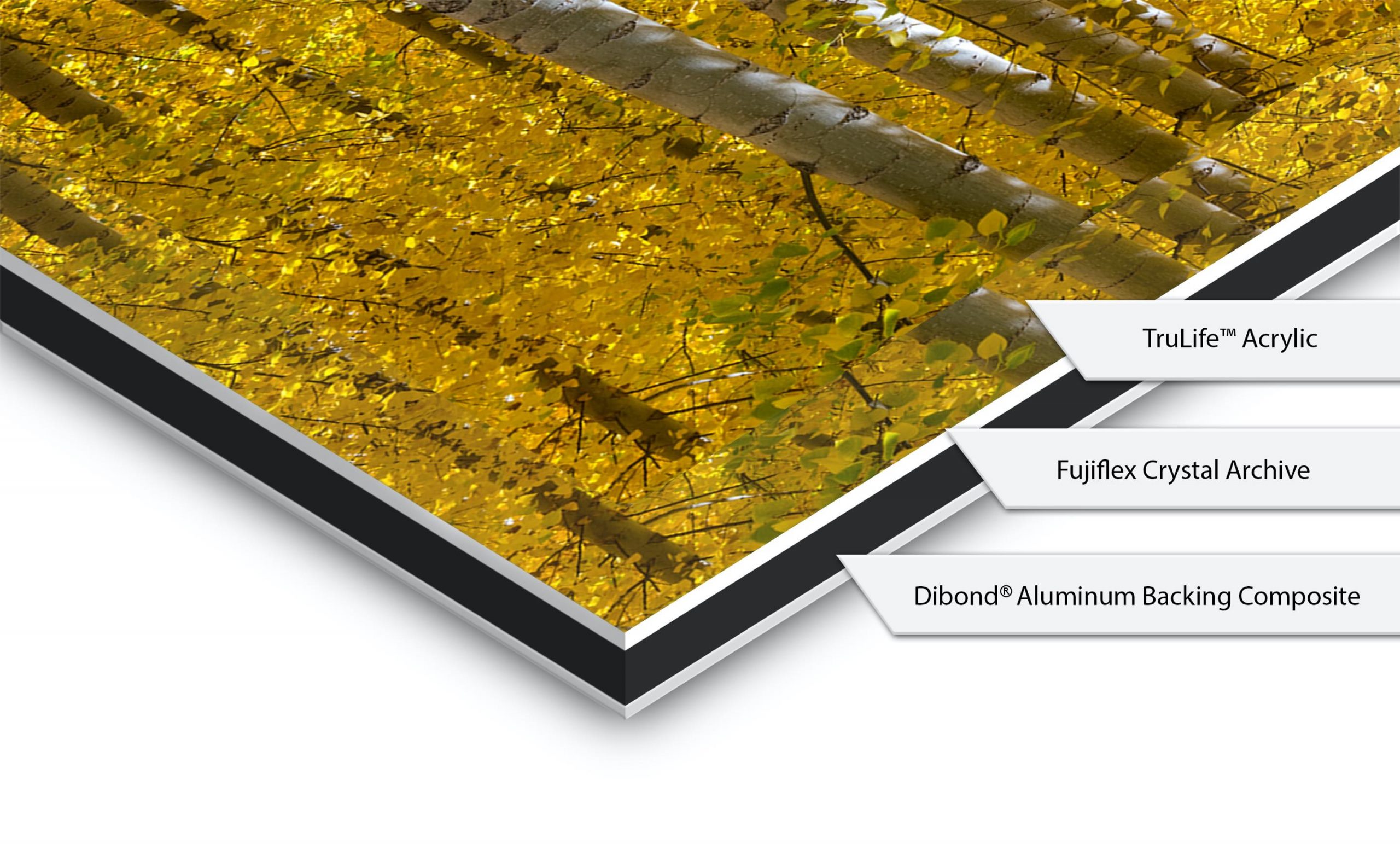 Diasec® is a museum approved method of print preservation and presentation.
Gallery Exhibition Piece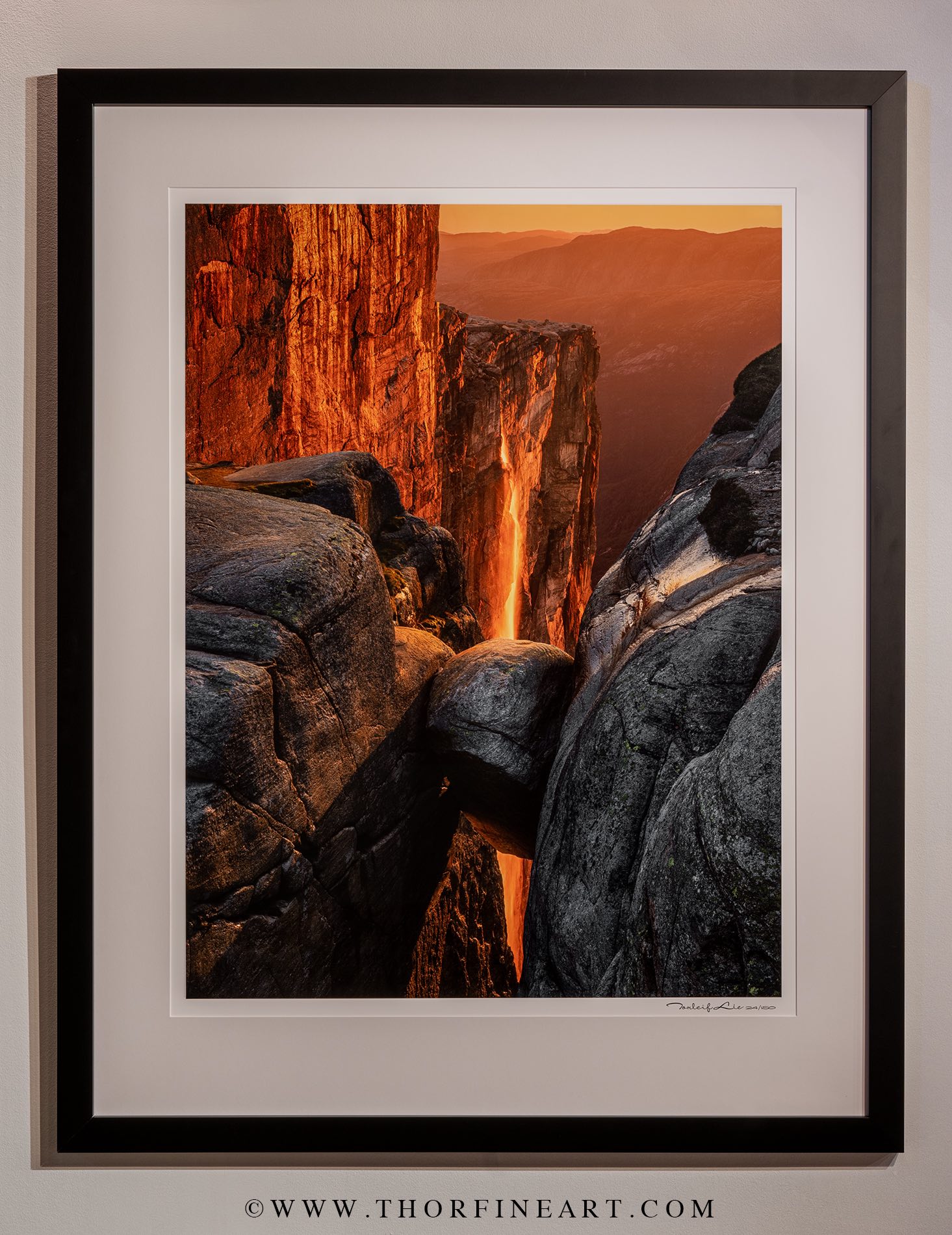 Canson® Infinity Platine Fibre Rag
Archival Passepartout
Custom Black Matte Museum Frame
Clarity AR Glass
Canson® Infinity Platine Fibre Rag
With an aesthetic and feel mimicking that of F-type smooth satin fiber paper from the darkroom, Platine Fibre Rag Paper from Canson Infinity sets a new benchmark for printing in the digital age.
Canson® Infinity Platine Fibre 100% cotton paper has the latest microporous coating along with the classic platinum/platine finish providing the aesthetic and feel of the original F-Type Baryta Fibre paper, having a true pure white tone without using optical brighteners.
The 310 gsm paper has a thickness of 15.6 mil and is rated with a whiteness of 89.12%.
Custom Frame
We offer a variety of frames to compliment the Gallery Exhibition Pieces, including exquisite hardwood oak and American walnut frames for a selection of our pieces.
Clarity AR 70 glass by Larson Juhl
The Clarity glass by Larson Juhl is an invisible, anti reflective glass which educes reflections to less than 1% – allows viewing of artwork as intended – showcasing the true colors without any distortions.
Our creation process is slow, meticulous and artisanal.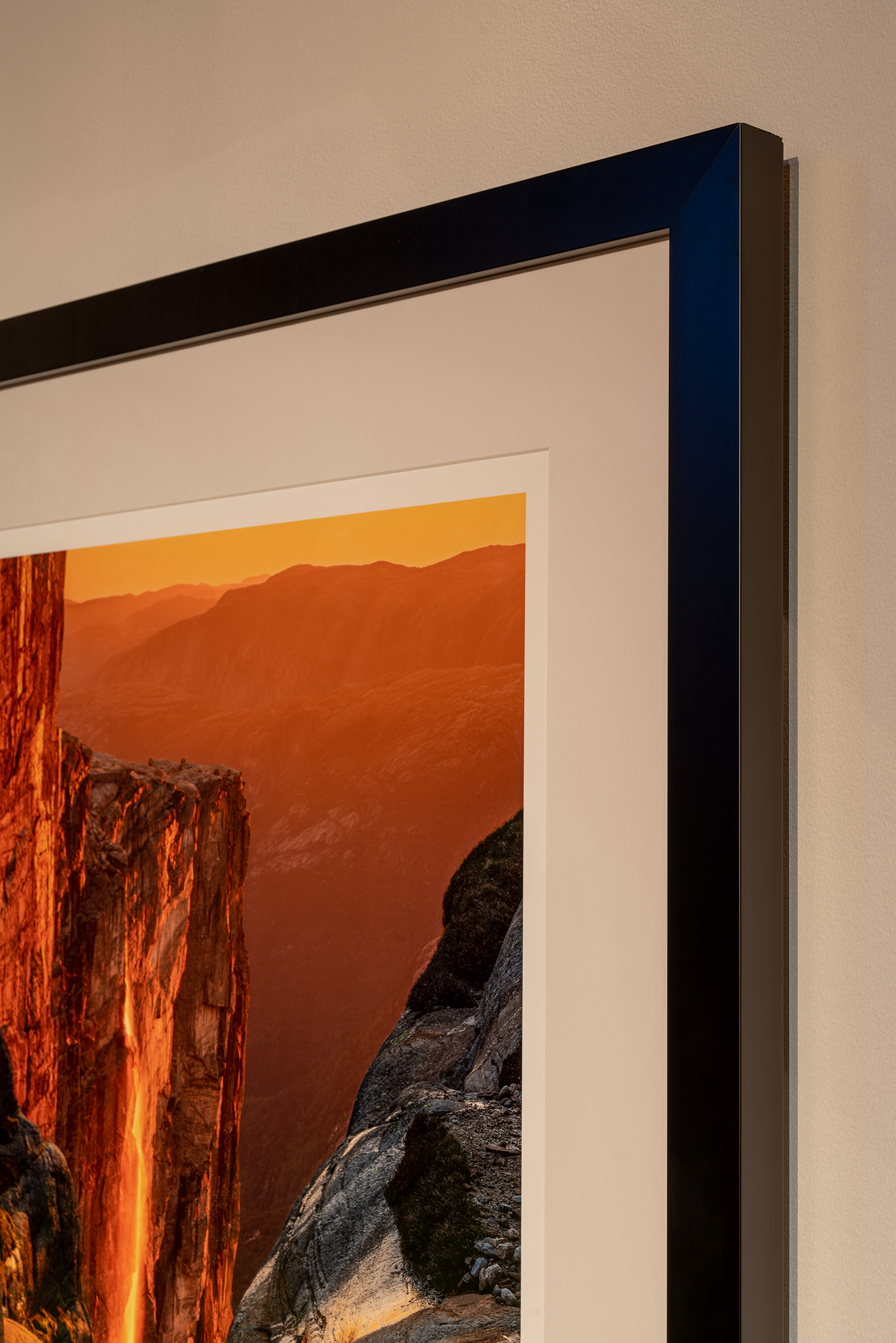 Proof Prints
To meet our Collector's needs, we offer Signature Collection Proof Prints. We understand our Collector's desire to assess the image quality and print medium before investing in a large format fine art print or TruLife™ acrylic art piece.
Collectors purchasing Proof Prints will be credited with the Proof Print's purchase price when ordering for a large format fine art print or TruLife™ acrylic art piece. Please contact us before placing an order to receive your discounted purchase price.
Once the Signature Edition sells out, Proof Prints will no longer be available.

We offer Proof Prints to enable collectors to assess the incredible image quality and experience the exquisite print medium firsthand.
Torleif Lie
Interview with Torleif Lie
BIFA 2020 Winner, 1st Place, Professional Nature category – "How we Bleed the Earth, our Guilt and Shame"
Q: Tell us a little bit about your background?
Technology has been my past and it allowed me to see and record the world in ways that others do not. Art then became my obsession and Photography allows me to show the beauty, fragility and destruction of the world that I have seen during my travels and professions. I seek the beauty of all things, places and humans, even when beauty is found in destruction.
Q: What was your last work and what inspired you to do it?
My last project was an underwater study, "Birth, Death and Resurrection", as a symbol of hope and renewal in a time when humanity was facing extreme global challenges due to the pandemic. Bringing together the primordial element of water with a human body were the only way for me to convey this symbolism.
Q: What genre of photography do you enjoy most?
My background in aviation and the subsea industry have enabled me access to creating images of the immense natural beauty found in our fragile planet from above and below, expanding our limited physical views of our world and exposing what could easily be lost or destroyed within a few decades.
Q: Your work, "How We Bleed the Earth, Our Guilt and Shame", is powerful as well as sad. Do you believe there is hope that humans can change and save the world instead of destroying it?
Hope is eternal, but as humans we are now facing our uninformed naivety and greed squarely, and as we approach a looming climate / human disaster, the radical changes needed by our societies to survive this global challenge are likely to be very slow, hard and conflict driven.
Q: You won the Nature Photographer of the Year 2020 title. What does winning this award mean to you?
Winning this award was truly a humble experience. Being able to reach such a large audience with a crucially important message is incredibly valuable. My photography carries an environmental reminder that our world, and ourselves are at a crossroads.
Q: You must have travelled a lot to shoot nature photographs. What are the most outstanding or significant places that you have visited, and why?
Some of the most memorable experiences I have had were the aerial photography project over the Rio Tinto Mines, freediving in Bahamas photographing wild dolphins and photographing two local landmarks in Norway in divine light: Kjerag & Preikestolen ("Zeus" & "Valhalla Rising"). These images all convey the fragility and beauty of our planet and what's at stake.
Q: What would be your dream project in photography if there would be no budget limits and you could travel anywhere, photograph anything/anyone?
Photographing our beautiful planet from space.
Q: What would be the one advice you would give to photographers just starting out?
Focus on the message you desire to convey, instead of camera and technique. Photographs are important messages, be careful what you say with them.
Q: Are you working on something new right now? Can you tell us a little bit about it?
I have several projects always tugging at me and they will rise in due time, but all within the fluid life of being a full-time artist in our complex world.
Source: https://budapestfotoawards.com/interviews/torlief-lie/
Recent Work
"Birth, Death and Resurrection"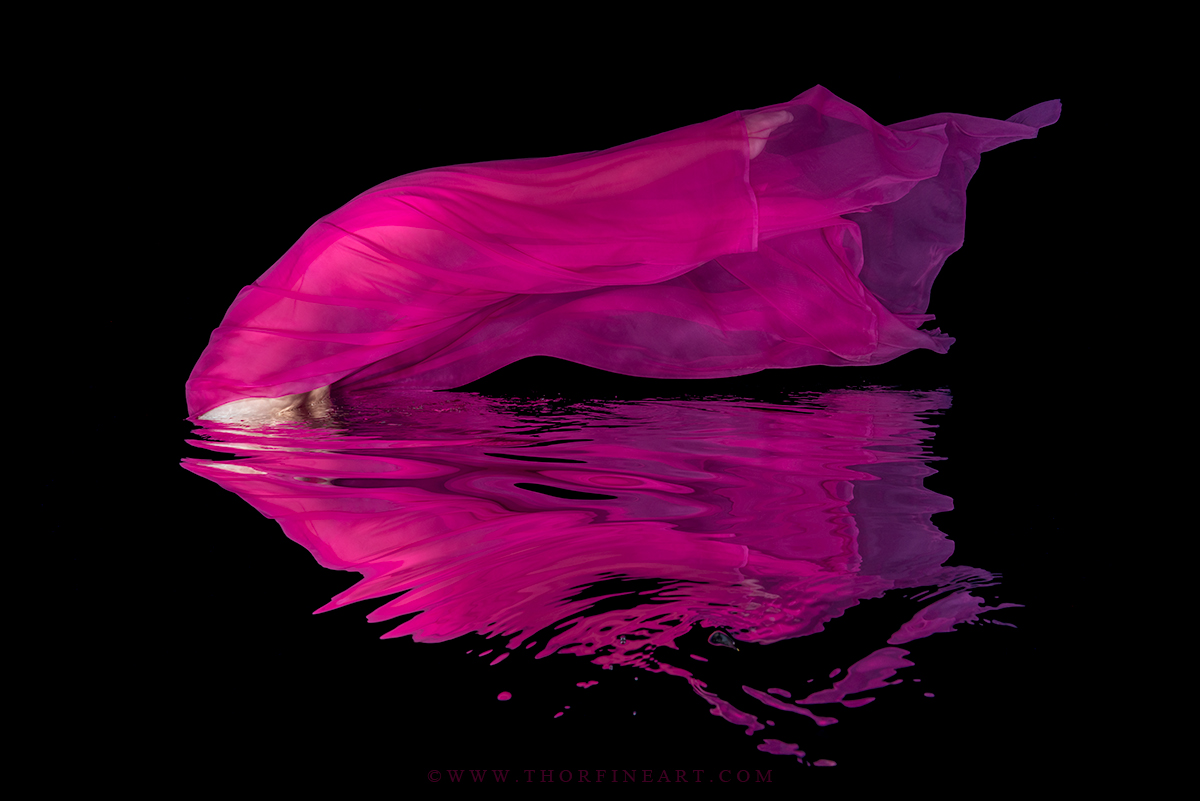 Artist Comments
"The universe and all within it, inanimate or as life forms, is implacably subject to the laws of physics, namely the time continuum and the resulting cycle of life which can be measured in millenniums or nanoseconds. Nothing is permanent, matter and energy are in constant flux, our sun is half empty and in a short 5 billion years our solar system will recycle into something new.
The cycle of life is the one crucial pondering for humans, classified as "mortals" relative to the infinite lives and transmutations of the gods and goddesses necessary to make sense of the terrible affliction of life and death. Religion, philosophy, lysergic acid diethylamide, mystics, stoic foretellers, and cryogenic preservation have all provided a myriad of answers with varying degrees of surprising and at times unsavory methods. The paramount question remains and it may well be that it is too much of a question to ask.
The goddess is the perfect emissary to the gods who have all the answers, and as the mother goddess with aptitudes including birth, fertility, the cycle of seasons, sexuality, water and solid connections as the mother of many gods. Perhaps, when a pandemic rages on earth, as they have in times past we can find consolation in the enduring goddess who reminds us of the beauty of birth, and the resurrection that follows death. She has many names, mother goddess seems most appropriate."

Torleif is a member of Norges Fotografforbund, Federation of European Professional Photographers and Professional Photographers of America.
Norges Fotografforbund NFF
The Norwegian Photographer's Association (NFF) was founded in 1894. It is a Norwegian association with more than 500 professional photographers. The association's purpose is to bring together the country's professional photographers to collaborate on the development of photography and safeguard the interest of the photographer.
Federation of European Professional Photographers
The Federation of European Professional Photographers (FEP) is a nonprofit organization that organizes national professional photographers associations in the geographic area represented by the Council of Europe and has member organizations in some 29 countries. FEP is officially headquartered in Brussels. The Secretariat is in Rome. As the central reference authority for Photography in the European Union, it represents over 50.000 professional photographers in Europe.
The FEP defends the rights of professional photographers directly and in communion with national and international organisations. about-insetIt represents the interests of member associations on a global scale on topics like education, training, professional standards, authors rights etc. The FEP cooperates in the organisation of national events of member associations and international congresses, and promotes an exchange of keynote speakers.
The main aim of the FEP is to validate the standard of qualifications of professional photographers throughout Europe. In 1998, with help of the British Institute of Professional Photography (the BIPP), the FEP instigated a European qualification called QEP.
Professional Photographers of America
Professional Photographers of America (PPA) is the largest and longest-standing nonprofit photography trade association with a 150-year history. It currently helps 30,000+ pros elevate their craft and grow their business with resources, protection, and education, all under PPA's core guiding principle of closing the gap between what photographers do as artists and entrepreneurs and what consumers want.